The Garmin Forerunner 245
At long last Garmin updates their popular mid-level running watch
Garmin has finally updated their mid-level running-focused watch lineup with the announcement of the new Forerunner 245. There are two variants of this model: the 245 and the 245 Music, priced at $299 and $349 respectively. Both offer substantial updates and new features when compared to the last generation Forerunner 235. This article focuses on what makes this watch a compelling choice.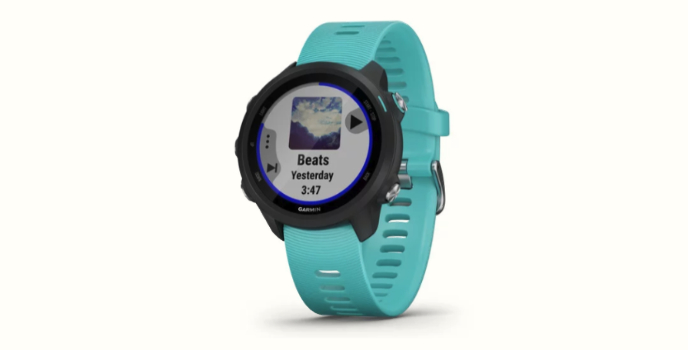 The new Forerunner 245 Music features the ability to store and playback music to paired Bluetooth headphones. However, the music capability isn't the only thing that makes it different. The 245 Music also features built-in WiFi, which is needed to sync playlists from services like Spotify. The WiFi is also useful for automatically syncing new workouts to Garmin Connect and SportTracks without requiring you to pair the watch with your phone.
Besides music and WiFi, both new 245 models are the same. The sections below highlight the most important features...
New features and improvements on the Garmin 245
Improved Display
The color display on the Garmin 245 is now made of Corning Gorilla Glass 3 and is a complete circle, not squared-off on the top and bottom like the Forerunner 230 and 235. The resolution has improved as well, with the new 245 offering 240 x 240 pixels, whereas the 235 has 215 x 180 pixels.
Improved Optical Heart-Rate Monitor
If you look back at the high-end Fenix 5 Plus that Garmin released last summer, the heart-rate monitor on the new Forerunner 245 doesn't seem radically different. But if you look back to the last generation Forerunner 235 from late 2015, you will see how far it has progressed. The heart-rate monitor on the 235 wasn't the most reliable, so the Garmin Elevate heart-rate monitor on the 245 should be a significant improvement. It's the same heart-rate monitor that's found on the Forerunner 945 and Garmin's top-of-the-line MARQ sports watches.
Pulse Ox
Along with the improved heart-rate monitor is another feature borrowed from the Fenix 5X Plus, a wrist-based sensor called Pulse Ox. This is an advanced feature that measures oxygen absorption, which can tell you how well your body is adapting to exercise. It works best when you're not moving, and you can set the 245 to read your Pulse Ox as you sleep. The 245 handles complete wellness tracking as well, such as step and sleep tracking, and this data is automatically brought into SportTracks for analysis.
Improved Battery Life
The new Garmin 245 can get up to 24 hours of use when in GPS mode, which is more than double the amount of life you got from the Forerunner 235. The 245 gets 7 days of life when in smartwatch mode, and when playing music and using GPS it will last for 6 hours.
UltraTrac Mode
If you want to do workouts that exceed 24 hours in length, whether it's an ultramarathon or an epic hike, you can enable the new UltraTrac Mode on the 245. This decreases the number of times the watch will write GPS points and use sensor data, but it greatly increases the battery life to record unusually long activities.

Running Dynamics
When used with the separately available RD Pod or HRM-RUN or HRM-TRI bands, the new Garmin 245 provides Running Dynamics data such as Vertical Oscillation, Ground Contact Time, and more. These metrics are available the view on data screens as you run, and you can analyze this data after you work out in Garmin Connect and SportTracks.
Bluetooth Fitness Sensor Support
There are plenty of Bluetooth-related features in new Garmin 245, such as showing notifications from your phone, getting weather updates, and other smartphone features. What's new is that it's now possible to pair Bluetooth Smart fitness sensors, such as a Bluetooth heart-rate monitor, to use them with your 245. This wasn't possible with the Forerunner 235 and 230.
Galileo Support
New to the Forerunner 245 is support for the European Union satellite system called Galileo. Basically, when you set up your watch, you can choose to use just GPS satellites, or you can choose GPS + GLONASS which includes the Russian satellite system, or choose GPS + GALILEO. What this means is that if you look at your map data and think it could be more accurate, you can switch to these various satellite systems and find the ones that work best for you.
Basic Navigation
Another feature not found on the old Forerunner 235 and 230 is navigation. The new 245 doesn't have full maps like the new Forerunner 945, but it does provide a way to view your path on a map, to save locations, and it can give you instructions to navigate your way home.
Assistance Alert and Crash/Incident Detection
If you accidentally crash on your bike, or stumble and fall on a run, the Garmin 245 can alert your emergency contacts and provide them with your last GPS location. Plus, if you haven't had a traumatic crash or fall but you still want to let your emergency contacts know where you are, you can hold down a button on the 245 to do so. These features require that you have your phone with you.
Lap Swimming Support
While it was possible to use Connect IQ apps to record pool swims with the Forerunner 230 and 235, this workout type is now officially supported in the new 245. It can record pool swims, but not open water swims nor scuba dives. The Garmin 245 provides pool lengths, swim intervals, stroke count, stroke types, and SWOLF. UPDATE: In September of 2019 Garmin added the abiity to record heart-rate data while swimming with the Forerunner 245. Updating the firmware adds the new functionality.
Other new goodies in the Garmin 245
Virtual Partner - You can add a "Virtual Partner" data screen to an activity to try to maintain a specific speed or pace. You can even race against it.
Improved Predicted Race Times - This feature was in the Forerunner 235 and 230, but it's been improved because in addition to VO2 Max, it also looks at your training history and other data sources.
Metronome - While it was possible to add a metronome to the Forerunner 235 and 230 via Connect IQ, a metronome is now included with the new Garmin 245. This is a useful tool for training to improve your cadence.
Configurable Lap Banner - You know those notifications you get every time you complete a mile or kilometer? You can configure the data that's displayed on this banner to your liking with the Garmin 245. There is also a lot more configurability found throughout the Forerunner 245.  
Final thoughts...
There's a lot to like in the new Forerunner 245. The bigger picture items are great, such as the improved heart-rate monitor, improved GPS, improved battery life and so on. There are also plenty of little things to appreciate, like the new all-day stress tracking and Body Battery features, which make the 245 an excellent wear-at-all-times fitness tracker.  
The new Garmin Forerunner 245 will likely be the best all-around mid-level sports watch you can get. And while it is appealing, it doesn't have everything we want. For example, it lacks a barometric altimeter, which means that as good as an activity tracker as it may be, it cannot count stairs. This also means that it can't use Garmin's Running Power, which is a bummer. But even with its shortcomings, the new Forerunner 245 is going to be the perfect watch for a great number of people.
Article written by Sam Mallery, Director of Marketing, Zone Five Software Inc.