Training Effect in SportTracks
A new way to track the progress of your fitness
Training Effect is a popular feature on select Garmin devices, and a recent update to SportTracks made it possible to bring this data into your Health page. This article explains how you can easily set this up, and how this information can be useful for your training and racing. 
What is Training Effect?
Training Effect is a number from 0 to 5 that is displayed on select Garmin devices and found in the stats on Garmin Connect after a workout. The intention is to give you an idea how much of an impact your workout had on your aerobic fitness.
A small number like this may seem oversimplified at first, but there's more to it than just differentiating between easy and hard workouts. It's generated by a complex algorithm that's based on scientific research of post-workout oxygen consumption. Training Effect also draws upon your current fitness level and other personal factors. This is what a Training Effect number means:
| | |
| --- | --- |
| 0.0 to 0.9 | Workout had no effect |
| 1.0 to 1.9 | Workout had a minor effect |
| 2.0 to 2.9 | Workout had a maintaining effect |
| 3.0 to 3.9 | Workout had an improving effect |
| 4.0 to 4.9 | Workout had a highly improving effect |
| 5.0 | Workout was too intense |
As you can see, the low level of complexity is to your benefit. It's clear when a workout isn't contributing to your fitness, and it's equally obvious when you're overtraining. Any extra signals you can get to avoid injuries are a welcome thing, and it's reassuring to know that a great deal of vetted research was leveraged in the creation of this metric.
As useful as Training Effect may be, it only provides one part of the picture of your overall fitness. If you want the full story — and if you want to get the entire value out of your watch — you should use Training Effect in conjunction with the powerful tools in SportTracks.  
How to access Training Effect in SportTracks
As long as you use a Garmin device that has the Training Effect feature (they're listed in the last section of this article), you can access this data in a chart on your SportTracks Health page. You just need to do a little configuring to make it happen:
Step 1) Visit your Health page and choose the panel where you want to display your Training Effect chart, then select the gear icon in the left corner of that panel. PRO TIP: You can add new panels by selecting the "Customize" gear icon in the top left corner of your Health page.
Step 2) In the window that appears select "Training effect" from the menu and then select "Close".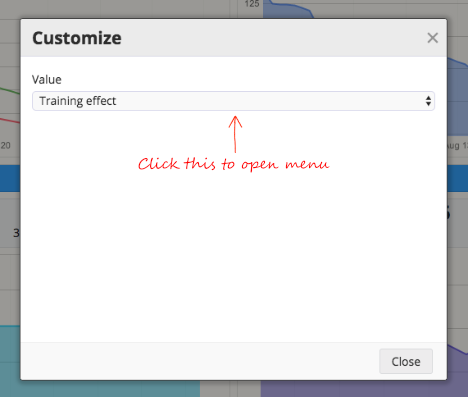 Step 3) You're done! This new configuration of your Health page will remain saved with your device and won't change until you decide to customize it again. If you access SportTracks with a computer, mobile phone, and a tablet, you can make custom Health page layouts that will be saved on each device.
When this is implemented a Training Effect chart will display on your Health page, showing the progress of your various workouts chronologically. You can analyze various time increments (all time, year, 3 months, month, and week), and even click and drag within the chart to open a detail screen where you can edit and delete individual readings!
There are insights to be gleaned from using your Training Effect chart in conjunction with the Training Load and Performance charts in SportTracks. While Training Effect tells you if you're maintaining or improving your fitness, the Training Load and Performance charts go much deeper by illuminating your current training volume and predicting how your fitness will peak in the coming days and weeks based on past and planned workouts.
Depending on where you are in your training cycle, you can compare your Training Effect chart with your Training Load and Performance charts and their corresponding dates to determine if base training miles are being effective, if recovery workouts aren't causing too much stress to interfere with a taper, etc. From there you can drill down into individual workouts and overlay a range of custom metrics, or zoom out and analyze how your Aerobic Efficiency is trending over time. 
How can I get Training Effect?
To get Training Effect you must use a compatible Garmin device, and you also must track heart rate either with a built-in sensor or an external strap. For the most accurate results it's recommended to use a chest-strap HRM. Here are the Garmin devices that have Training Effect: Fenix 5 Plus, Fenix 5, Fenix 3, Fenix 2, 935, 920XT, 645, 630, 620, 735XT, 235, 230, Chronos, and the Edge 1030.
Thanks for checking this out. We hope you find this new fitness analysis tool to be useful!  
Article written by Sam Mallery, Director of Marketing, Zone Five Software Inc.