The 2018 Boston Marathon
Charlyn Chapal explains the magnetism of running's biggest race
Hi everybody! This is Ellen, the Social Media Manager at SportTracks! I thought it would be inspirational to meet some of our awesome users and share their impressive goals and accomplishments! With Marathon Monday less than a week away, it made sense to kick things off by introducing you to a runner who is gearing up from the grandaddy of them all: The iconic Boston Marathon. It's our pleasure to introduce you to Charlyn Chapal, a veteran of many marathons and fabulous SportTracks user. Check out her story below, and follow her Boston journey on Twitter at @Xaarlin.
I asked Charlyn a few questions about her goals and training for Boston, and what being a part of this special running event means to her. Here's what she had to say...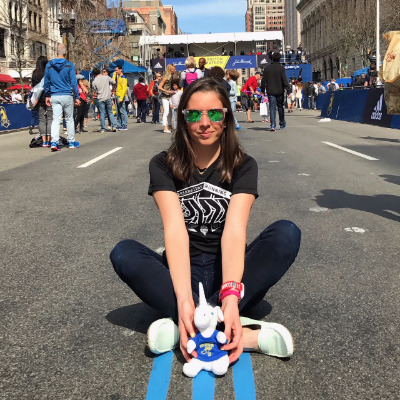 Ellen: What are your goals for the 2018 Boston Marathon? 
Charlyn: I've been training for a 3:10 — but know that might be a stretch for me. My not-so-current PR of 3:28 is from 2016. I ran a 1:35 half PR in November and decided it would be exciting to chase a 3:10. My #1 goal is always to have fun. A new PR would also be pretty sweet.
Ellen: Have you run Boston before? If so, how many times, and what are the highlights of your previous experiences? 
Charlyn: This will be my 3rd Boston, 2nd as a qualifier. The highlight of my first in 2011 was being able to share the experience with my dad — his first Boston too (I ran on a sponsor bib). Last year when I ran as a qualifier for the first time, I soaked up the experience even more — ran without headphones, chatted with runners along the course, and even kissed a few girls at Wellesley. 
Ellen: How cool to get to share the Boston experience with your dad! I've been fortunate enough to run it a time or two as well, and I agree that it's an experience like no other! You just can't beat chatting it up with 20,000+ of your runner junkie BFFs out on the course, and if you don't smooch a few Wellesley girls, you're most definitely doing it wrong! Do you have a cool "chasing down the Boston Qualifier" story? If so, I'd love to hear it!
Charlyn: My dad has been a runner his whole life and it was his lifelong goal to qualify. Running is something we've always bonded over. He missed qualifying in the 80's with a solid 3:04 at the peak of his running. In 2010 I saw him finally achieve his BQ and decided at that point I needed to get my own BQ. In 2012 I got a 25 min PR for a 3:40 — not enough to qualify. I missed the BQ by less than 5 minutes 3 more times before finally having another breakthrough marathon in 2016 which qualified me for 2017. Last year Boston was very hot and I took it easy. (Mildly disappointing considering all the training). I ended up running my 2nd BQ at the Copenhagen marathon a few weeks later. I attribute my success to drinking some beer just past 13.1 with my run club: Mikkeller Running Club. 
Ellen: Awesome sauce! I know how elusive that BQ can be, and how oh-so-sweet it feels to catch it with a big breakthrough race. (And did you catch that pro-tip from Charlyn, BQ hopefuls out there? BEER may be the only thing standing between you and that qualifying time that you're looking for!) Runners sure do get worked up about the Boston Marathon! Any thoughts on what makes it so cool and special?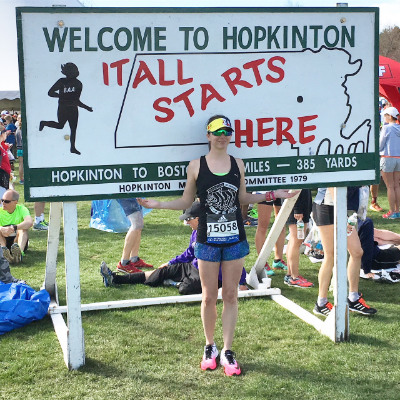 Charlyn: I'm sure it's been said before but Boston is like our Olympics. Having to qualify adds another dimension to the allure of Boston, as well as the long history of the race. When you're in Boston for marathon weekend it's overwhelming how the community supports this race. 
Ellen: Give us an overview of a typical training week (both a regular week at home, and a current vacation training week).
Charlyn: I'm self coached, using the Hanson advanced marathon plan. I do have some great friends who will give me honest feedback about training and life which helps a lot. Typical training weeks are 55-60 miles with speed work on Tuesday, tempo on Thursday and double long runs on the weekend (cumulative fatigue!) with easy runs during the week. When I went on vacation a few weeks ago, my training mainly stayed the same. Boston training doesn't stop for vacation or beer festivals. 
Ellen: Nice! Those Hansons don't play around! (Check out my review of their marathon training method.) I have no doubt that you're dialed in to marathon goal pace like a boss and ready to crush it on race day! Any sage advice you would offer to runners who are tackling Boston for the first time?
Charlyn: Boston is magical. I'd say to first timers (and as a reminder to myself) to just soak up as much as possible marathon weekend. Chat with the guy in the elevator who has on a Boston jacket from 1972, make a new friend on the bus to Hopkinton, and if you're feeling good Marathon Monday, drink some beer with the kids at Boston College on the course.
Ellen: When did you start incorporating technology into your training, and what aspects of it do you find most valuable? 
Charlyn: In 2012 I decided to finally start logging my miles. Eventually, logging miles wasn't enough because I love analyzing data and was searching for something better. My friend recommended SportTracks to me over 2 years ago. I find SportTracks to be incredibly useful. The health/performance graphs have correlated to my peak performances and give me extra confidence knowing I'm right where I need to be during training, and especially on race day. (And also give me enough warning if I'm headed towards burnout). SportTracks has been incredibly valuable to my success as a runner.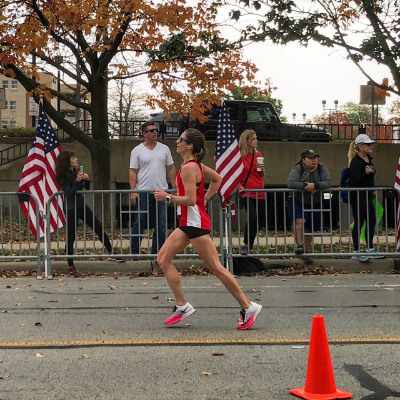 Ellen: Would you say that the marathon is your ideal race distance, and if so, can you tell us about the process of finding it?
Charlyn: I love the marathon! I love the training, and of course race day. I ran cross country in high school and couldn't imagine running over 6 miles — which is a huge contrast to today, where my shortest runs are 6 miles. In 2002 I ran my first marathon, NYC completely under trained and it was as awesome and miserable as it sounds. It wasn't until 2010 that I ran another one: Nike Women's marathon in San Francisco. I had trained well using Hal Higdons plan and felt great the entire race and took an hour off from my first 26.2. After that I was hooked. I'm obsessed with seeing improvement, love the journey and will continue chasing PRs at the 26.2 distance for as long as I can. Boston 2018 will be my 16th marathon. 
Wrapping up...
Well Charlyn, we sure do appreciate you taking the time to share your Boston Marathon journey with us! May your trip from Hopkinton to Boylston Street be filled cheering crowds, tales glory from other marathons gone by, high-fives from adorable kids, spontaneous dance parties, and plenty of Wellesley smooches! We look forward to reading your sure-to-be-triumphant race report! Best wishes, and thanks for training with us!
Do YOU have an awesome, brag-worthy goal race or story you'd like to share? I would love to hear it and consider it for our series of articles spotlighting SportTracks community members! Please email us at support@sporttracks.mobi and tell us all about it!
Charlyn Chapal has been running for as long as she can remember, she's the founder of the Chicago chapter of the Mikkeller Running Club, and she keeps getting faster. You can keep up with her racing at her blog.
Article written by Ellen Moss, Social Media Manager, Zone Five Software Inc.