The new Garmin Edge 520 Plus
Pointing the way to the future of bike computers
Garmin just announced the new Edge 520 Plus bike computer, which offers a handful of upgrades over the original Edge 520 from 2015. Most notably, it handles turn-by-turn navigation and can automatically update your route if you make a wrong turn. This isn't a show-stopping feature that every cyclist must have, but the 520 Plus is still a compelling new option — especially when you factor in the advantages of Garmin's extensive ecosystem.
The new turn-by-turn navigation functionality has cycling-specific tools that standard vehicle navigation apps lack. A feature called "Trendline Popularity" highlights routes that other cyclists prefer riding. This helps you avoid bike-hostile roads, and maybe see prettier sights along the way. Features like this illustrate how Garmin has leveraged their popularity to your advantage.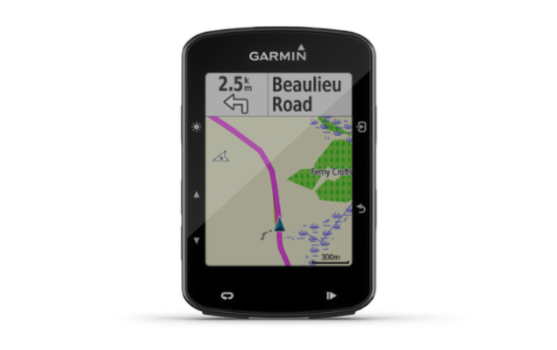 The 520 Plus comes loaded with your region's maps, so it can navigate to a saved course or "saved point" such as your home address without an internet connection. If you're riding in rural areas with no mobile phone reception (as endurance cyclists often do), you can still pull up fresh turn-by-turn navigation instructions from the 520 Plus. This is something that the much-loved Wahoo BOLT cannot do.
Another cool feature you won't find on competing bike computers is the new "Extended Display" mode. If you use a Garmin Fenix 5 or Forerunner 935 watch, you can set the 520 Plus to mirror the metrics your watch is recording. This is ideal for triathletes who want to track races and brick workouts on their watch, instead of creating a separate workout file on their bike computer.
Recording all of your activities on one device also makes Garmin's built-in First Beat training load data accurate. However, this is never something you have to worry about when you use SportTracks, because workouts from any kind of bike computer, sports watch, or mobile tracking app are all sent to the performance charts, so you can easily determine how fit you are for a race.
Connect IQ and Varia Radar
There are two more significant ways that Gamin's rich ecosystem benefit you with the new 520 Plus: Connect IQ apps and Varia radar lights. The unit comes loaded with apps from Yelp and Trailforks. While Yelp may seem like an odd choice for a bike computer, what it does is actually quite useful. You can search for specific businesses and locations, and when you find what you need, you get the typical Yelp information like star-ratings and such, but the app will also send the navigation route to your 520 Plus, so you can immediately start pedaling to the address.
One of the limitations of the 520 Plus is that you cannot search for an address and then command it to navigate you to that address. For that functionality you need to upgrade to the Garmin 820 or 1030. But Connect IQ apps like Yelp can help you get to nearby locations on-the-fly without that functionality.
The 520 Plus is fully compatible with Garmin's Varia radar lights, namely the new RTL510 taillight. This light uses radar to detect cars approaching from the rear, and it can spot them when they're 500 feet (152 meters) behind you. The moment a car is detected, the display of the 520 Plus will show a series of dots (next to your workout metrics). As the dot approaches the top of the screen, the car gets closer and closer until it passes. Several cars can be detected, not just one.
"
If you don't need detailed navigation features, the ultra-compact Garmin 130 is worth checking out.
To many people this may sound like an unnecessary luxury. Why not purchase an inexpensive mirror instead? However, the people who buy and use Varia lights have nothing but extremely positive things to say about them. For many people, the Varia light integration is one of the most compelling reasons to choose a Garmin head unit.
If radar lights appeal to you, they're compatible with a good number of older Garmin bike computers as well. They're also compatible with the new Edge 130, a lower-priced yet surprisingly full-featured monochrome head unit. If you don't need detailed navigation features, the ultra-compact Garmin 130 is worth checking out. It has the new Extended Display feature, too.
Bike computers are a growing and competitive market, and there are many options to choose from. If you want one with a big screen and long battery life, you have more than one option. If you want something small and lightweight for racing, you have more than one option. If you want something in-between, you have many options. The new Garmin Edge 520 Plus is definitely not the best bike computer for everyone, but it will likely be the most appealing option to a sizable chunk of cyclists.
Article written by Sam Mallery, Director of Marketing, Zone Five Software Inc.