The best affordable Smart Trainers
Good, better, and best: 3 budget-friendly Smart Trainers for your bike
If you've already spent time on a traditional bike trainer, or if you're completely new to indoor cycling, you should be aware of a piece a gear called a Smart Trainer. They transform your indoor workouts into dynamic, fun, and data-rich experiences. However, it's time-consuming to figure out which models deliver the best value — especially on a budget. That's where this article comes in.
UPDATE: For up-to-date recommendations check out our Best Budget Smart Trainers of 2021 article.
This is a list of smart trainers in order of good, better, and best. It starts with the least expensive (yet capable) option, and ends with a model that rivals the performance of best trainers available — yet with a substantially lower price. Whether you're training for a triathlon, Gran Fondo, or you just want to stay fit, read on to learn about the best bang-for-the-buck smart trainers out there.
What is a smart trainer?  
Let's cover the basics...
Indoor trainers (which are referred to as "turbos" in England) attach to the rear of a bike and enable you to ride without moving, so you can do cycling workouts indoors, protected from the weather and dangers of the road.
There's a misconception that all smart trainers are exorbitantly expensive...
Smart trainers have sensors that capture and transmit your workout data via ANT+ and/or Bluetooth. You can then view and record this data with a bike computer, sports watch, smartphone, tablet, or computer.
The benefits truly pay off when you use a cycling program like TrainerRoad or Zwift. In these cases, not only is the smart trainer providing data like power and cadence, it's also electronically adjusting the resistance of the trainer to match the cycling software on your screen. This is what makes it worth the price of admission; instead of tedium, training becomes immersive and engaging.
The best entry-level smart trainer:
The Elite QUBO Digital Smart B+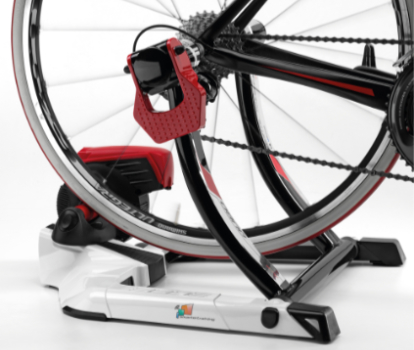 There's a misconception that all smart trainers are exorbitantly expensive. For example, one of the most popular traditional trainers, or "dumb trainers", is the CycleOps Fluid2 which sells for $299 USD. The Elite QUBO Digital Smart B+ is a full-featured smart trainer with electronic resistance, and it costs $150 more. Not a trivial difference in price, but close enough to be within reach. 
Note: pricing on these trainers can vary considerably in different parts of the world.
While the Digital Smart B+ is impressive for its price, your expectations must be realistic. There are drawbacks: inaccurate power, cadence, and distance data, cumbersome included software, etc. Plus, this model is a couple years old, so you're not getting the latest and greatest. But at this price, it's still an attractive option. Simply put: it's the most inexpensive smart trainer that gets good reviews from reliable sources.
The Elite QUBO Digital Smart B+ is a "wheel-on" trainer, which means the back wheel of your bike is mounted to the unit. You don't have to fuss with removing a wheel, but it will add wear to your tire, and it won't have as realistic of a ride feel. The other kind of trainers (direct-drive) more accurately recreate the feeling of inertia, whereas wheel-on trainers slow down much faster when you stop pedaling. You can learn the most important details of smart-trainer tech in our Understanding Bike Trainer Tech article.
When shopping for the Elite QUBO Digital Smart B+, be sure to confirm that the product name is an exact match. Elite has several models with very similar names, which can create confusion. In the event that this model isn't available, unfortunately, there isn't another option near its price worthy of recommendation. If this is the case, we suggest jumping up to a mid-level trainer.
The best mid-level smart trainer:
The Wahoo KICKR SNAP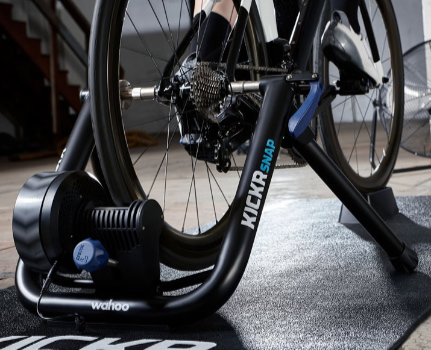 While there are other great options in the mid-level smart trainer market, the robust build-quality, accuracy, and easy set-up process makes the Wahoo KICKR SNAP the one we like best. Wahoo manufactures the popular ELEMNT and ELEMNT Bolt bike computers, making the SNAP the only mid-level option with tightly-integrated hardware companions. Plus, all Wahoo bike computers come with automatic SportTracks sync built-in.
Like the Elite QUBO Digital Smart B+, the KICKR SNAP is a wheel-on trainer, so it shares the same downside of tire wear. However, it's far more accurate, providing that you perform a short calibration test every time you ride. Power readings can be altered by tire pressure and how snuggly the SNAP is attached to your bike. The calibration routine corrects these inaccuracies.
Wheel-on trainers tend to be noisy, but the sound that the KICKR SNAP creates isn't terribly loud. With a maximum wattage of 1500 watts, it has ample headroom to handle the vast majority of riders. A fun perk of the KICKR SNAP is that it's compatible with Wahoo's upcoming KICKR CLIMB accessory, which brings virtual hill climbing to life by physically lifting and lowering the front fork of your bike.
The best affordable high-end smart trainer:
The Elite Direto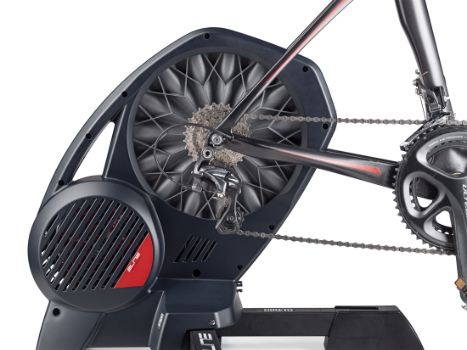 With sleek Italian styling and a name that reeks of Nacho cheese, the Elite Direto is a smart trainer that provides the accuracy, feel, and performance of models that cost several hundred dollars more. In fact, the Direto is considered one of the most accurate smart trainers available, which is beyond impressive for such a competitively-priced trainer.
This is a direct-drive trainer, which means you remove your rear wheel and mount your bike directly to the unit. This provides a quieter ride, better road feel, and more accurate data. You won't add unnecessary wear to your rear tire and wheel, and you also won't need to calibrate the Direto as often (once a month as opposed to every ride with the KICKR SNAP).  
Be aware that the Direto doesn't come with a rear cassette, so it's something you definitely need to purchase and install. If you find a discounted price on the Wahoo KICKR (which is also a high-end, direct-drive smart trainer), consider getting that instead. The KICKR comes with a rear cassette, plus it has better inertia, and higher maximum power and grade simulation.
Wrapping up...
The vast number of smart trainers that are available add layers of complexity to an already confusing space. But please, don't be intimidated! Smart trainers are an excellent and safe way to improve your fitness in the comfort of your own home. Pick out the model that best suits your needs and get riding!
Lastly, be sure to always track your indoor trainer workouts. All of your activities impact your fitness. The only way to get the big picture is to log every workout (rides, runs, swims, etc.) on one platform. That's where SportTracks comes in (start a free, no-risk 45-day trial here). SportTracks features automatic workout sync with TrainerRoad, PeriPedal, Wahoo ELEMNT, Garmin Connect, and more. It acts as the control center of your training, and helps you truly achieve your best.
Article written by Sam Mallery, Director of Marketing, Zone Five Software Inc.