Health Data and Apple Watch
Get daily health metrics from Apple Watch and the HealthFit app
The Apple Watch has been an excellent workout tracking device for SportTracks for a while now, but a recent update to the HealthFit app has expanded the capability of this integration. Now, in addition to being able to use Apple Watch to track all of your activities, HealthFit syncs your daily Resting Heart Rate (RHR), Heart Rate Variability (HRV), and VO2 Max — and you can now view and analyze this data in SportTracks.
In addition, if you use a Withings smart scale, HealthFit will send your daily Weight and Body Fat readings to SportTracks. We've had a seamless auto-sync integration with the Withings smart scale since 2014 (SportTracks provides auto-sync with the Garmin Index Smart Scale as well). This update offers a new way to sync your weight data.

With just a little adjustment to your SportTracks Health Page, you can start monitoring these metrics. If you're doing lots of training and your RHR is lowering as you get more fit, it's nice to see this on a chart without requiring you to take any manual readings.
Get it running...
To get this data into SportTracks you are going to need an Apple Watch, and you need the HealthFit app on your iPhone. The HealthFit app has a one-time fee of $2.99 USD, but it's a fantastic tool for using Apple Watch with SportTracks as it can easily be set up to automatically sync all of your workouts and health data.
Make sure the software is up-to-date on your Apple Watch and iPhone, and make sure you have the latest version of HeathFit:
Open the HealthFit app on your iPhone.
Tap More in the lower right corner
Scroll down to Workout Synchronization, tap it, and tap on Automatic to turn it on, then tap More to go back
Next, tap on Health Metrics Synchronization, and tap on Automatic to turn it on
You may be prompted to visit the Apple Health app to allow HealthFit to access your health data types. If this is the case, select Turn All Categories On in the Apple Health app.
It's worth noting that when you visit the Health Metrics Synchronization page in HealthFit, you can see the history of your recent uploads to SportTracks. Green checkmarks are displayed to show that the sync did not have an error. It's just nice that there's a way to check to see if all of your metrics are being synced.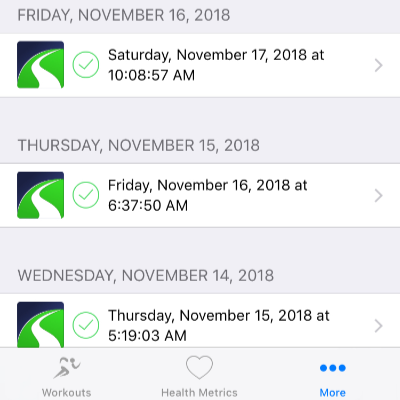 In order to view and analyze these metrics in SportTracks, you need to adjust the charts on your Health page:
Visit your Health page
Select the gear icon  in the upper right corner
In the Customize window that opens, select the + button to add new charts to the page
After that you can select the arrow keys beside the new chart to choose what size you want (I used the 3-chart option in the screenshot at the top of this post)
When you have want you want, hit the Close button
Select the gear icon  on the right side of one of the new charts
In the window that opens, select the Value menu and choose the metric you want to display (HRV, RHR, VO2 Max, etc.)
Why Apple Watch?
There are many great watches available to track your workouts from Garmin, Suunto, Polar and other manufacturers. While the Apple Watch certainly isn't the best choice for everyone (you need to own an iPhone to even use an Apple Watch), it is an appealing option for some. 
There are several great apps for tracking workouts on Apple Watch, such as iSmoothRun, which offers support for running power meters. Apple's default Workouts app is also useful, especially for tracking swim workouts, as it records detailed stroke data and underwater heart rate.
The new Series 4 Apple Watch offers a remarkably large display, and has a feature called "Fall Detection" which can identify when you trip and fall and do not get up. It will automatically contact emergency services on your behalf and provide your GPS coordinates if you do not recover from a fall. It's a reassuring feature for long runs, trail runs, and cycling. You just need to remember to manually enable Fall Detection in Settings when you get the watch.
Thanks for checking out this post! If you have any questions, we would love to hear them in the comments section below...
Article written by Sam Mallery, Director of Marketing, Zone Five Software Inc.