Sync with FitnessSyncer
Make the most of your health and fitness data
If you track with devices from Garmin, Polar, and Suunto, loading these workouts into SportTracks is effortless thanks to the automatic sync integration. But what happens when you don't have them with you, or the battery is dead before you start? The solution is to record your activity with a mobile app like Strava or RunKeeper, and then automatically send it to SportTracks with a service like FitnessSyncer.
FitnessSyncer seamlessly syncs all of your data, no matter the source. It's free to use for up to five sources (mobile fitness apps, devices, etc.). You just create an account, then add a source for the data you want to pull in, and authorize FitnessSyncer to access this information. Loading acitivities can take time depending on how much data you have, or the particulars of the service it's coming from.
Advanced features and filtering
Some people use a similar tool called Tapiriik for this functionality. While Tapiriik is great for its simplicity, FitnessSyncer offers more advanced features and the ability to filter data.
A feature called "Synchronize Destination Task" compares the data from your sources with the data in your destinations and will only send unique data when it synchronizes. This automatic synchronization happens once per day on free accounts.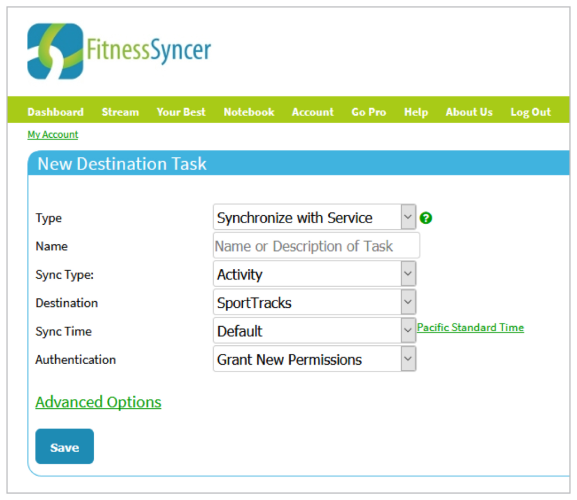 One of your fitness tracking apps may have data that you don't want to import or publish because it's irrelevant to you. FitnessSyncer allows you to add filters to sources and destinations. These filters operate on a data field and can be mixed and matched to fit your specific needs. You can test your filters with a downloadable sample CSV.
If you've been tracking your health and fitness data for a while, you probably have a large library of files collected on your hard drive. You can download the free FitnessSyncer Uploader for Windows or macOS to get those files into the cloud so you can send your data to other services, save data from devices or apps that are inaccessible or unsupported, and consolidate your health and fitness history in one place.
Don't need synchronization services right now? FitnessSyncer can also be used for backing up your health and fitness activities, both within FitnessSyncer or by creating backups of your data in DropBox, Google Drive, OneDrive, and Amazon S3.
SportTracks is all about options. You have the freedom to use various tracking devices and apps, and with Tapiriik and FitnessSyncer, you have two great options for getting all of your fitness data uploaded for advanced analysis.
Contributed by Eric Theriault from FitnessSyncer
Article written by Sam Mallery, Director of Marketing, Zone Five Software Inc.