What is Tapiriik?
A free site that lets you sync fitness app workouts to SportTracks
If you track workouts with mobile fitness apps like Strava or RunKeeper, you can easily send these workout files to SportTracks with an excellent (and free) website called Tapiriik. This blog post explains everything you need to know about this procedure.
When you first visit www.tapiriik.com, you'll immediately notice its dark and moody color scheme, and you'll see words in foreign languages. Even the name of the site — Tapiriik — feels alien and unfamiliar. Don't worry! It's actually very cleanly-designed and easy to use.

The main body of the Tapiriik homepage is a grid of fitness icons. To start using it, you simply select one of them. Go ahead and select SportTracks: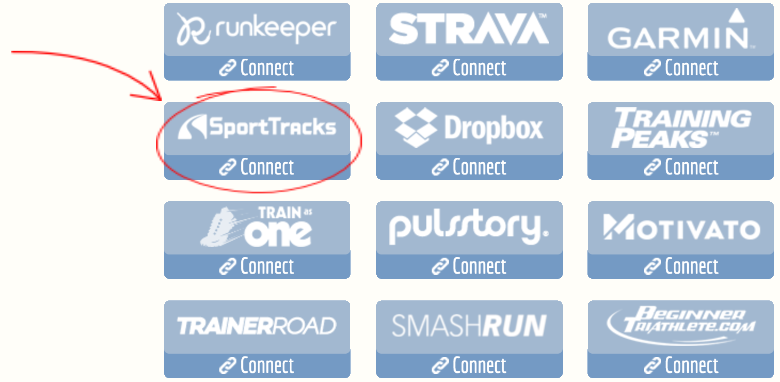 You need to authorize Tapiriik to access SportTracks. If you're already logged in, you will be brought directly to the authorization page. If you're not, you will be brought to the SportTracks login page (logging in brings you straight to the authorization page).
Select the Yes, I authorize this request button:

After you hit that button, you will be taken back to the main Tapiriik screen. Notice that the SportTracks icon is now in a separate section above the others:

You now need to select a second service to sync with SportTracks (Strava, RunKeeper, Endomondo, etc.). You will go through another authorization procedure, and afterward you can start using Tapiriik.
When you visit Tapiriik.com, you will see a Sync button at the bottom. When you press it, Tapiriik will share the workouts from your mobile app with SportTracks.
A few things to keep in mind:
If your mobile fitness app is set to Private, Tapiriik will not sync your workouts by default. You can, however, go into Tapiriik's settings and change it to accept private files.  
You need to visit Tapiriik.com and press the Sync button every time you want to sync. There is a paid version of Tapiriik that will automatically sync for you. This costs a reasonable $2 USD a year.
Sometimes it can take time for Tapiriik to sync your services. However, sometimes it happens very quickly. Regardless, don't expect your files to transfer instantly.
Wrapping up...
Having the option to track workouts with mobile apps can be convenient. When you're away from your tracking devices but you want to workout, you can still easily record your activity with your phone. Our integration with Tapiriik is just one of the many ways that SportTracks strives to give you the most workout options possible.
And speaking of options, you can also use another free service called FitnessSyncer to sync workouts from mobile fitness apps to SportTracks. We love giving you as many choices as possible!
Article written by Sam Mallery, Director of Marketing, Zone Five Software Inc.