Connecting with TrainerRoad
Detailed analysis of your indoor trainer rides
Hot on the heels of our new sync integration with Suunto devices last month, we are absolutely thrilled to announce we're bringing the same experience to TrainerRoad™ users. Starting today you can enable a link to your TrainerRoad account from SportTracks and all new workouts will be automatically brought into your SportTracks account. You can also import your entire history of TrainerRoad workouts into SportTracks for analysis.
Why is this so exciting? Let me count the ways...
1. Current TrainerRoad customers now have access to advanced analysis and planning tools including integrated coach communication, not possible through TrainerRoad alone.
2. Multisport athletes using TrainerRoad can now see a complete picture of their entire workout regime - cycling, running, swimming, crosstraining, and more.
3. Indoor trainer rides can be incorporated into fitness performance modeling via Training Load, just like your outdoor rides.
4. Finally, if you're a SportTracks user looking for a power based indoor cycling solution, here we have an option that "just works".
No more messing around with data import and export, inconsistencies in data or external sync solutions. Connect your account once and forget about it while you crush those Sufferfest videos.
Setup is simple like all of our sync partners.
1. Click the My Account link in the upper right corner of the app and navigate to the Sharing page.
2. Click the Connect button.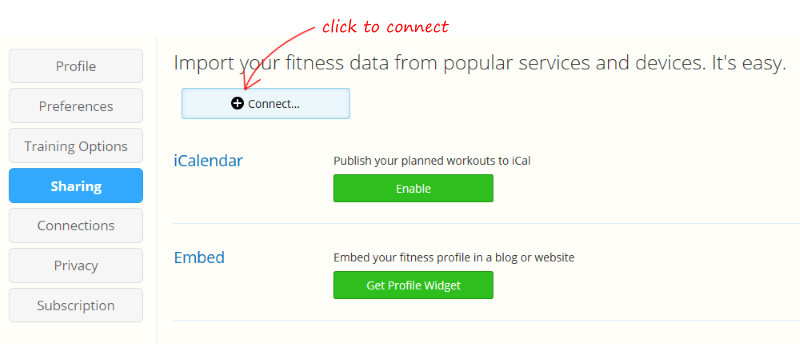 3. Select the TrainerRoad option.
4. Finish the activation by providing your TrainerRoad username/email and password.
Once authorized we'll check your TrainerRoad account every 10 minutes for new workouts. Your workout will be up on SportTracks.mobi before the burning in your quads goes away.