What's the best Sleep Tracking app?
We tested 3 sleep trackers for Apple Watch to find the best
Sleep tracking can provide much needed motivation to help you make healthier decisions, and the additional rest you get can help improve your recovery and performance in endurance sports. If you want to track your sleep with an Apple Watch, you first need to download a third-party sleep app to your iPhone. There are many to choose from, so we tested out three of the most popular options.
We spent a week tracking our sleep with each of these apps to truly test them out. They're all compatible with our Apple Health integration (thanks to an app called HealthFit), so you can analyze this sleep data beside other training metrics in SportTracks. Read on to learn all about SleepWatch, AutoSleep, and Pillow.
SleepWatch
SleepWatch does a commendable job of accurately tracking your sleep and presenting you with data that makes sense. The charts are easy to comprehend, and it's obvious when you're not getting enough sleep, and when you're doing well. Tapping to look at sleep-phase data forces you to swing your phone into the landscape orientation, which seems unusual these days, but looking at heart-rate data and averages seemed appropriate on the wider screen.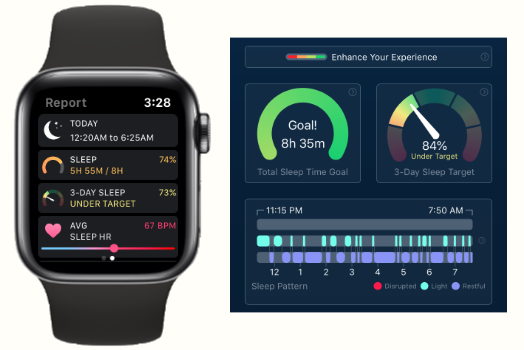 An interesting metric called "3-Day Sleep Target" is prominently placed at the top of the SleepWatch dashboard. It lets you know if you're ahead or behind on getting a healthy amount of sleep over a 3-day period. The app provides easy-to-find explanations as to why you would want to get a certain amount of sleep over 3 days, and it even provides links to scientific papers that support their theories. This was the metric I looked at most, and when I finally got a decent score I felt like I had accomplished something.
The app isn't perfect. On many occasions SleepWatch sent me notifications asking how I felt after sleeping that day, after I had already answered. It also persistently reminds you to upgrade to the premium version, which costs $2.99 USD a month. Paying for premium unlocks the SleepWatch Score, bedtime reminders, and a sleep report card. Even though the free version feels complete, as you scroll around the app you often see reminders to upgrade to premium for the full experience. It's tastefully done, but it's still a distraction.    
AutoSleep
Like the name implies, AutoSleep automatically tracks your sleep without you needing to start or stop it. This is a feature that's found on most sleep-tracking apps these days, but in the recent past it wasn't widely available. If you prefer to be more exact with your tracking, you can use a feature called Lights Off that lets you tell the app you're going to sleep.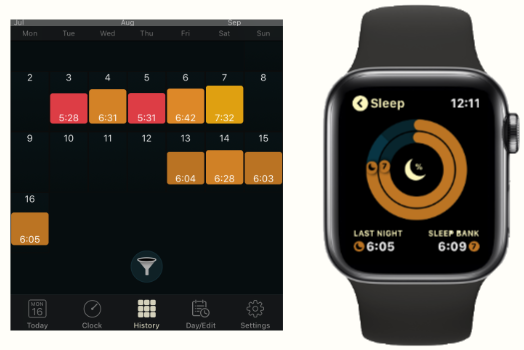 This app follows the "close your rings" model of the native Apple Watch activity tracker. After a night's sleep, you can open AutoSleep on your watch or phone to see how close you came to closing your sleep rings. You get four rings: Sleep Duration, Deep Sleep, Heart Rate, and Sleep Quality. Last night I got around 75% of my sleep duration completed, and believe me, I felt the missing 25% when my alarm went off.
AutoSleep feels like a fully-realized app. You can adjust your sleep duration goals, it compares your sleeping heart rate with your non-active waking heart rate and looks for beneficial trends, and plenty of information is provided to help you make sense of the data and charts. In order to use AutoSleep, you need to buy it for $3 USD. What's nice is that you get an ad-free app that doesn't waste space trying to get you to upgrade. However, in the 2 weeks that I tracked with AutoSleep, it encountered an error and failed to record sleep data for 5 nights. It gave me warnings that something was wrong, but it was unclear how to resolve it. The app ended up correcting the problem on its own, but the entire ordeal felt like a bug.
Pillow
One of the great things about wearing an Apple Watch while you sleep is using it as an alarm clock. Gentle vibrations on your wrist are much more peaceful than noisy alarms, and they won't wake up your partner. An app called Pillow has a smart alarm that knows what sleep phase you're in, and it won't wake you up when you're in deep sleep. There are other sleep apps out there that do the same thing, but it's an interesting idea nonetheless.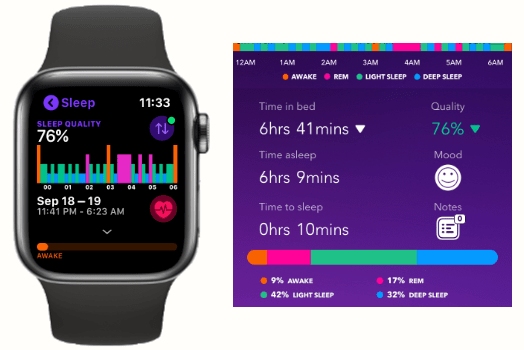 The first time you open Pillow, it pulls in your most recent sleep data from Apple Health, so if you tracked your sleep with another Apple Watch app the previous night, you can review the interface and charts right away. However, you cannot review your sleep history unless you upgrade to the premium version. You can see sleep phases in the app for Light Sleep, Deep Sleep, REM, and Awake Time. You are given a sleep quality percentage score, and you can make notes and assign a mood to how you felt when you woke up.
Pillow has the same business model as SleepWatch, which means you can use the free version but if you pay an annual fee of $27.99 USD you get all of the features. Thankfully, the smart alarm clock is included in the free version, but the downside is that it isn't available if you choose automatic sleep tracking. Another downside is that heart-rate data is hidden in the free version. Overall, it seems much more limiting compared to SleepWatch. Pillow does have a curious feature that allows you to make audio recordings of your snores, but again it's disabled if you use automatic sleep tracking.
Which is the best sleep tracking app?
My overall favorite was the free version of SleepWatch, despite the constant visual reminders to upgrade to premium. The interface was nice and clean, and the data was easy to understand. As odd as it sounds, I do wish SleepWatch had an automatic snore-recording feature. Admittedly, I would mostly use it for laughs, but it does seem possible to use this sort of feature to effectively test methods to reduce snoring.
No matter what you choose, be it Apple Watch, Garmin sleep tracking, or something else, I think it's worth it to give sleep tracking a try. The same way that step counting inspires people to walk more, tracking your sleep will motivate you to get more hours of quality rest. It can be eye-opening to see how much sleep you've gotten in the past few weeks, and extra rewarding to achieve eight-hour nights. You will feel more alert and invigorated, and it can also provide massive benefits to your cardiovascular health. Plus, keeping a record of your sleep data will help you more effectively analyze your training and racing history in SportTracks. 
Article written by Sam Mallery, Director of Marketing, Zone Five Software Inc.