The Garmin Forerunner 945
Everything you need to know about Garmin's triathlon focused watch
It's been over two years since Garmin introduced the Forerunner 935, a multisport watch with powerful capabilities housed in a race-friendly compact and lightweight body. As appealing as it was, as time marched on the 935 started to lack many of the features found in more recent Garmin watches, such as music storage and contactless payments. The new Forerunner 945 was just released, and it fills in the holes of these missing features, and adds new functionality on top.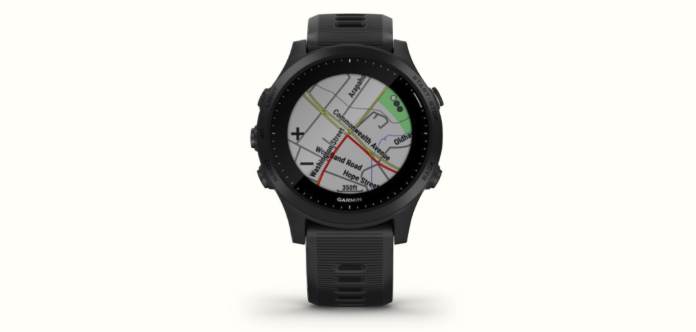 Some product updates bring sweeping changes with complete physical redesigns and new approaches to how they operate. This happened when the popular Garmin 920XT was replaced by the Forerunner 935 in 2017. Nearly everything was different from device to device. This is not the case with today's update from the 935 to the 945. These watches are nearly identical. The buttons, buckles, and optical monitors look slightly different, and that's about it. But that's okay because the 935 was a much-loved watch, and the 945 just continues its legacy.
Even though the physical appearance hasn't changed much, there's a lot of new functionality in the Forerunner 945 that we explain in the highlighted sections below...
New features and improvements on the Garmin 945
Full Map Navigation Built-In
The marquee features of the 945 may be music and payments, but the inclusion of full map navigation is the biggest standout feature to us. Music and payments are only useful for certain types of people, while pretty much everyone can appreciate a helpful map. The Forerunner 945 comes preloaded with maps of your geographical region (USA, Europe, etc.). Without an internet connection you can see your location, get turn-by-turn navigation instructions, navigate to Points of Interest and saved locations (like your home), and more.
Music Storage and Playback
If you like to listen to music or podcasts while you workout, but don't like being forced to use your smartphone or music player to do so, the new 945 has you covered. The watch has 16GB of storage, but you only get access to around half of it for your audio content. You can pair your Bluetooth headphones and transfer favorites from your music library via USB, or sync playlists from services like Spotify via WiFi. Speaking of WiFi, when you arrive to your home wireless network after exercising, the workout files on your 945 will automatically upload to Garmin Connect, and auto-sync to SportTracks as well. 
Contactless Payments
Even though the Forerunner 945 is all about sports, sports, and sports — the biggest new features are all about music, maps, and money. The 945 features Garmin Pay NFC payments. If you're at a store you can choose to hit a button on your watch in order to pay for your goods. There's probably a fair number of people who don't care about this at all, but even though it may seem like pure gimmick, contactless payments on a wearable is actually a handy feature to have. Sometimes you just don't feel like digging your bank card out of your wallet, and if you're working out without your wallet, you can still stop and make purchases. Your bank needs to be supported in order for this feature to work, but there's a decent amount of them now.
Improved Heart-Rate Monitor
One of the few physical differences on the new 945 is its array of optical sensors. This section houses the new Elevate heart-rate monitor, and the Pulse Ox sensor. The heart-rate monitor marks a gradual improvement over the wrist-based sensors Garmin released on the Fenix 5 Plus watches last year. So while this new heart-rate monitor isn't radically different from what you got on the old Forerunner 935, it's incrementally better, which is still a good thing.
Pulse Ox
The Pulse Ox sensor measures oxygen absorption, which can tell you how well your body is adapting to stress and exercise. It works best when you're not moving, and you can set the 945 to read your Pulse Ox as you sleep. Pulse Ox was an advanced new feature that first debuted on the Fenix 5X Plus last year. It's also included on the new Forerunner 245 as well.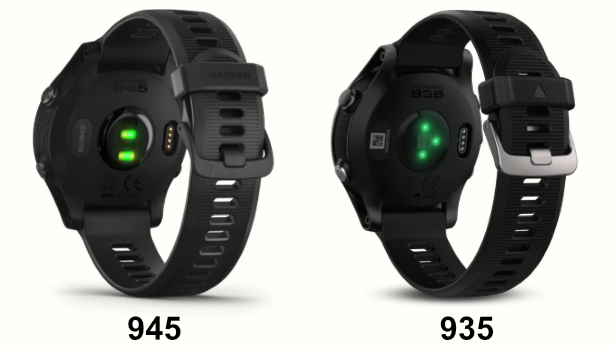 The optical sensors and the styling of the buttons and buckle are the only exterior physical changes
Improved Battery Life
Sure, the new 945 looks an awful lot like the old 935, but it has different internals. The new Forerunner 945 utilizes a more recent Sony chipset, which provides more efficient operation. One tradeoff is that the GPS data isn't as refined as it is on the older 935 (but that will likely improve over time). The good news is that the battery life has increased an impressive amount. The new Garmin 945 gets 36 hours of life in GPS mode, and 60 hours of life in UltraTrac mode (the 935 gets 24 hours in GPS mode, and 50 hours in UltraTrac). 
Crash and Incident Detection, Assistance Alert
If something bad happens to you during a workout, such as a bike crash or a hard fall on a run, the Forerunner 945 can automatically alert the emergency contacts you set up in Garmin Connect. Similarly, if you sense something creepy going on when you're out on a workout, you can alert your emergency contacts even if you haven't crashed, so they know where you are and can come to your aid if needed. Both the Crash Detection and Assistance Alert features require that you have your phone with you.
Heat and Altitude Acclimation
The new Garmin 945 comes loaded with new performance-related Altitude and Heat Acclimation features. These are metrics that let you know how well you're adjusting to changes in your environment. In order for them to work, you need to pair your watch with the Garmin Connect mobile app at least 3 hours before a workout, so the information is present to calculate the data. As the names suggest, Altitude Acclimation shows how well you're performing in changes of altitude, and Heat Acclimation shows how well you're performing in changes of temperatures above 71° F (22° C).
Other notable updates to the Garmin Forerunner 945
ClimbPro - This is a cycling feature that displays the amount of climbing remaining on a route or course you've selected to ride. Climbs are color-coded for intensity, and your current grade is displayed. It's similar to an in-ride version of the Automatic Hill Detection feature in SportTracks. 
Respiration Rate - This is a brand new metric that Garmin has yet to completely explain. The current manual for the 945 only states that it's "Your respiration rate in breaths per minute (brpm)." You can add Respiration Rate to display on the 945. 
Stress Tracking and Body Battery - Like the 935, the new Garmin 945 was designed to be a watch you can wear all day and use as a smartwatch and activity tracker (and get notifications from your smartphone, etc). New Stress Tracking and Body Battery metrics keep track of how much stress you're enduring, and measure how much energy you've spent throughout the day.
Improved Race Predictor - The Race Predictor feature has been included in many Forerunner watches over the years, but the latest version found in the new Garmin 945 has been improved because in addition to VO2 Max, it also looks at your training history and other data sources to calculate a more accurate prediction.
Closing thoughts...
The Forerunner 935 was the go-to watch for a great number of serious endurance sports athletes, and before that the 920XT was the one to use. All signs point to the new Forerunner 945 becoming the watch of choice for this crowd. If you don't need a timepiece that can be worn with fussy business clothes in a professional office, like the Fenix and MARQ series, the new Garmin 945 should be a top consideration. You likely won't need to use all of the features it provides, but you will find that it does an exceptional job with the features you do want to use.
If you're interested in an advanced sports watch like the Garmin 945, you likely appreciate more performance-focused training and racing tools. Quality hardware is a key part of this pursuit, but the software you use is equally important. Garmin makes some of the best hardware available, but their cluttered Garmin Connect software falls short in many regards. That's why serious athletes seek out a better solution, and SportTracks is their platform of choice. It's cleaner, more powerful, and far easier to use. Try it yourself with this 45-day free trial — you will not be charged when it ends.
Article written by Sam Mallery, Director of Marketing, Zone Five Software Inc.