Heart-Rate Monitor Tech
Understanding the different kinds of heart-rate sensors
Heart rate is one of the most well-known training and racing metrics in endurance sports, but the sensors that capture this data are not widely understood. We thought it would be helpful to provide you with clear explanations of the various heart-rate monitor technologies found in today's consumer sports equipment. This way, when you're trying to stay in zone 2 during an easy workout or hit 85% of your Max HR in an interval, you will fully understand the process taking place on the underside of your gadget.
QUICK NOTE: Check out our Heart Rate 101 post that explains 3 popular HR training methods.
There are two primary types of heart-rate sensors used in consumer sports equipment: electrical and optical — but these are simplified versions of their names. You can also refer to electrical as electrocardiography or ECG, and optical as photoplethysmography or PPG. Electrical sensors are typically used in chest-strap monitors, and optical sensors are the light-emitting LEDs found in watches and arm straps. Both types require a snug fit to work properly, but not so tight as to restrict blood flow.

A bit of history...
While the casual use of heart-rate monitors has increased exponentially in the past 10 years, they've been around for much longer. Doctors and scientists have been using light to study blood flow for over 100 years, and consumer heart-rate monitors for sports have been available since 1983. In 1969, Neil Armstrong's heart rate famously peaked at 150 bpm as he manually landed the Eagle spacecraft on the surface of the moon. It's amazing to think we have similar technology built into our wristwatches today!
Electrical heart-rate monitors
The thumping sound of a heart beat is caused by valves that open and close as your heart pumps blood, but an electrical heart-rate monitor isn't capturing audio. Like the nickname implies, this monitor senses electrical activity that's created by your heart. The underside that rests on your chest has electrodes that carry this electrical activity from the surface of your skin into the device.

The Garmin Premium Heart Rate Monitor with a soft strap
When an electrocardiogram is carried out at a medical facility, multiple electrodes are placed on the patient with a layer of gooey gel to better conduct electricity. Similarly, when you use a consumer heart-rate monitor chest strap, you are supposed to apply some water to the underside of the strap on the electrodes to help them operate more effectively. You also need to be careful that the monitor isn't upside down and positioned just below your sternum.
The act of putting on a wet chest-strap before a workout is a deterrent for some people. Others find that this type of heart-rate monitor is uncomfortable to wear. They can even cause skin to chafe. With the downsides out of the way, the data from electrical monitors tends to be reliably accurate, namely because they directly measure activity in your heart, not proxy information elsewhere in the body.
It's not uncommon for electrical heart-rate monitors to feature other sensors and capabilities. Some also have accelerometers, which collect additional fitness data such as cadence and other running efficiency metrics. There are also chest strap heart-rate monitors that can capture and record heart-rate data while swimming. Some models broadcast your HR data in both ANT+ and Bluetooth LE for other nearby devices to use, such as bike computers or gym equipment.
Optical heart-rate monitors
Optical sensors get a lot more attention these days because they're found in so many wearables and smartwatches, and they tend to make their presence known by shining bright and colorful lights. They use LEDs to detect the volume of blood flow under your skin. There are usually more than one LED, with some assigned to emit light into your skin, and others tasked with detecting changes in your blood flow.

The 3rd Generation Elevate Heart Rate sensor on the Garmin Forerunner 245
This type of sensor can be positioned on wrists, arms, and other extremities, making them more versatile than electrical monitors which need to be placed close to the heart. Optical sensors are commonly used in sports watches, activity trackers, and arm straps like the Scosche Rhythm 24, Polar OH1+, and Wahoo TICKR FIT. Arm straps are usually worn above the elbow, making them a great alternative for athletes who want improved accuracy over wrist-based options, without the drawbacks of chest straps.
This is not to say that all wrist-based optical heart-rate monitors are inaccurate. Some preform brilliantly while others provide less accurate data. There are many challenges to properly designing and executing optical heart-rate monitors for sports. Optical noise is problematic, whether it's daylight sneaking in or introduced by motion. The wrists of runners and swimmers are constantly in motion, and cyclists experience vibrations from their handle bars. Compared to the wrist, there is less intense motion in the upper arm, which is one reason why arm straps sometimes preform more favorably.
Anyone training and racing with fitness data should be concerned with accuracy. It's an important factor to take into consideration when choosing equipment to purchase. In this regard, the DC Rainmaker blog is an incredibly valuable resource and definitely worth visiting. The author, Ray Maker, routinely tests the accuracy of fitness tech equipment in his highly detailed reviews.
Additional technologies
The features and capabilities of heart-rate monitors are typically used in the marketing and branding of sports-related products. For example, Polar has a series of watches that feature their Precision Prime heart-rate monitor, which features a whopping 10 LEDs and a set of contacts that detect if you're wearing the watch or not. This is a nice touch, because when you take the watch off, it will not light up the LEDs and waste battery (or flood your dark bedroom with neon green light).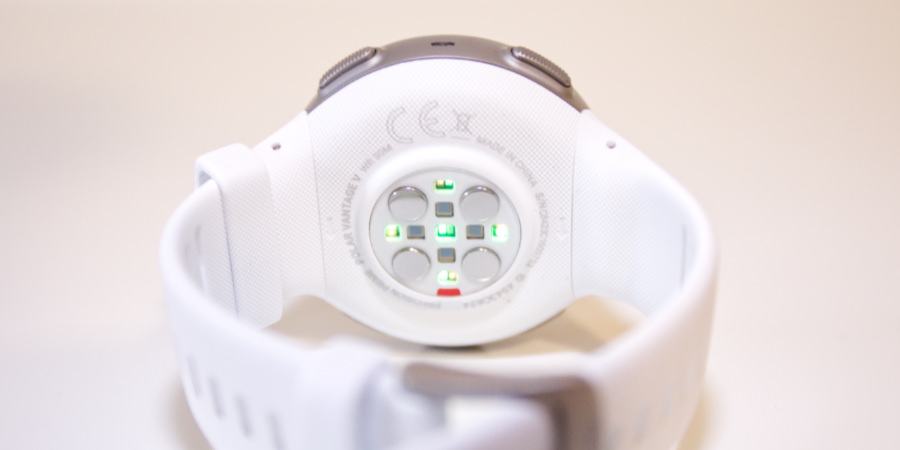 The Precision Prime optical heart-rate monitor on the Polar Vantage V
Garmin brands their optical heart rate monitors with the "Elevate" name. These sensor systems automatically detect when you become more active, and increase the frequency at which they monitor your heart rate. More recent versions of the Garmin Elevate monitor include a dedicated blood oxygen saturation sensor called "PulseOx."
PulseOx measures your percentage of oxygenated blood, or SpO2%. After you take a reading, you are presented with a percentage, which you typically want to be 95% or higher. Low readings can be a sign of trouble, especially when you're active in higher altitudes. Garmin also uses this data for their advanced sleep tracking metrics.
What can you do with this data?
Heart-rate isn't just valuable in real-time, it can also tell you a lot in post workout analysis. How long did it take for your heart rate to ramp up and settle down in an intense workout? How did it perform this year compared to past seasons? Did your heart rate decouple from power or pace at any point during a workout? These are all important pieces of information that can only be gleaned from analysis.
There are many ways to analyze heart-rate data, but most options will quickly overwhelm you with unnecessary complexity. SportTracks is an endurance sports training and racing platform that makes in-depth analysis fast and easy. Give it a try with this free 45-day trial. You can easily load your entire workout history, test out every feature, and you will not be charged at the end.
We hope you've learned a thing or two about heart-rate monitors in this article! (I certainly did while writing it)! 
Article written by Sam Mallery, Director of Marketing, Zone Five Software Inc.