Gear Tracking
Monitoring usage for maintenance, replacement or repairs
Peak athletic performance requires the right equipment – properly maintained and replaced at regular usage intervals. If you're a runner knowing when to replace your shoes can prevent an injury. If you're a cyclist heading out for a century having the confidence your gear isn't going to bonk is a must. Beyond safety and performance, you probably want to know where all that hard earned money is going, and what you're getting from it! Which brand of socks wear the fastest? Which chain works best in what conditions? Gear tracking in SportTracks can tell you.
Adding gear items
To get started using gear tracking click the Gear tab in the header. Click the Add gear button to add your first gear item.

On the New Gear Item page you can add all the details of your gear – model and brand, type, purchase details, notes, and a photo.
Take note of the Expected life field. Here you can enter how long you expect the gear to last, so you'll be reminded of its usage status and replacement date. Usage is tracked based on which workouts you tag this gear on (more in the section below) and SportTracks can use 3 different methods to track usage:
Distance: Use this if your gear wears based on distance used. Example: your running shoes might be good for 500 miles.
Hours: Use this if your gear wears based on the duration of time used. Example: a heart rate battery might be good for 500 hours.
Months: Use this if your gear naturally "ages" based on the original purchase whether or not you are actively using the item in workouts. Examples of this are items made out of materials that deteriorate with time (such as a neoprene wetsuit). Another typical use for this setting is if you're not consistently tracking the item with your workouts and just want to remind yourself when to replace it after a year, 6 months, etc.
Tracking gear usage
Once you've created gear items you'll want to track their usage by tagging them in workouts. Every workout you've tagged gear with will accumulate usage in distance (miles/kilometers) and duration (time). As more workouts are logged and tagged, usage accumulates until nearing or exceeding the Expected life field.
To tag gear, click the link in the gear section: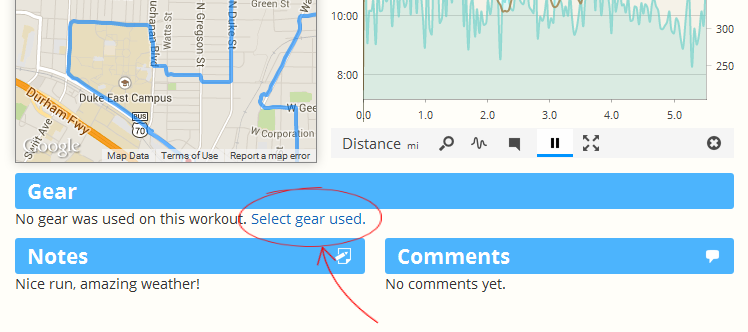 ...and click once on each piece of gear you want to tag for the workout. You can tag an unlimited number of items on each workout. Go ahead and add your best friend… you know you want to.
If you've already tagged gear items for your workout, click the edit button in the upper right corner of the gear header to make changes.
Viewing your gear locker
After you've spent a few months actively tracking your gear you can check status and usage by going back to the gear page. You can see an example of my page below. I've only tracked 28 items, but we have users that have hundreds: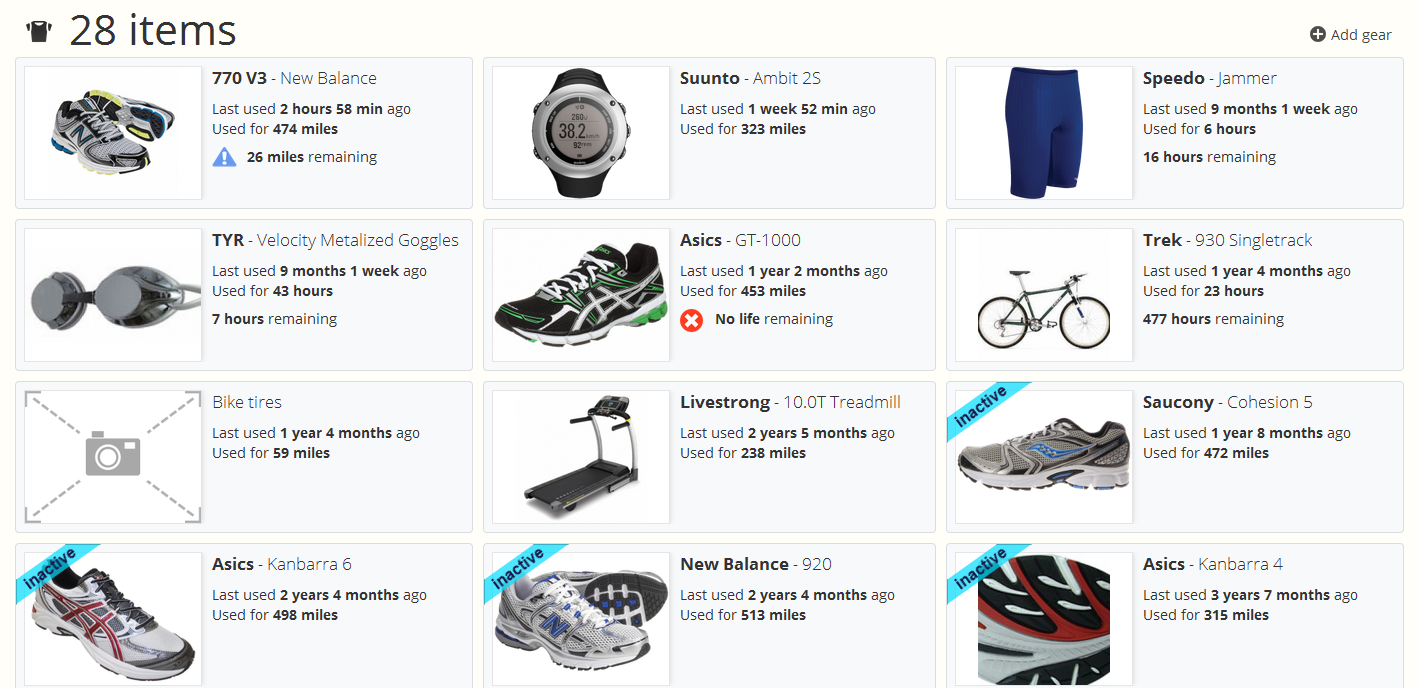 Gear will be listed in order of the last time it was used, with inactive items at the bottom. You can get more details on your gear item – notes, usage remaining, status and a chart of usage over time by clicking the item.
Advanced features
Above we've described some of the basic gear tracking functions. For advanced users we've got a few more features you should know about:
Import Settings. If manually tagging gear is tiresome, and you have a consistent, repeatable gear usage related to sport type or device, use the "auto-tag on import feature" and the software will tag items for you.
Active/Inactive status. Mark the gear you no longer use as inactive so it doesn't clutter up your pages. Inactive gear will be shifted to the bottom of lists.
Prior use. Use the Prior use field to add existing usage to an old piece of equipment. This is useful when you've bought used gear or have gear prior to your GPS tracking.
Subparts. Tracking maintenance and usage on your bike parts is critical. Use the Part of field to collect all your bike parts under your bike. All the parts will be auto-tagged when you tag the bike, but you can track parts which may have different expected life separately.
Gear tracking is an important part of your fitness program, from injury prevention, to safety and just knowing the value of the money you spend. Get tracking your gear in SportTracks today!