Marathon Motivations (4/5)
Kyle: The olympic trials hopeful
Kyle: The Olympic Trails Hopeful
Salutations, SportsTrackers! Thanks for coming back for Day 4 of our Marathon Motivations blog series! 
Today we will be hearing from my fabulous friend Kyle, who is chasing down some really big and exciting marathon goals!
But First, a Few Words on Why Kyle is Awesome:
Kyle is pretty much the whole package. She super-sweet, she beautiful, and she's wicked fast! I suspect if she was anyone else I might find her perfection to be borderline irritating, by Kyle is just so dang genuine and delightful that I (and everyone else for that matter) just can't help but love her! She and her husband joined our great local running community last summer and getting to know has been such a treat and an inspiration! I'm really excited to share her great story and her marathoning words of wisdom with you today!
Our Marathon Motivation Interview with Kyle:
SportTracks: How many marathons have you completed?
Kyle: I have completed four marathons: Philadelphia 2008 (3:21:35), Boston 2009 (3:13:22) and 2010 (3:03:13), and Chicago 2011 (2:49:14). I shared my times with you to show the progression I made over three years. This is a sport of patience. Running fast does not happen overnight.
SportTracks: WOW! That's a really impressive progression you have made! Very inspiring indeed!
SportTracks:  What marathon are you currently training for?
Kyle: I actually have not signed up for my next marathon yet. I've been battling with some on/off injuries and have decided to just focus on getting healthy and putting in consistent mileage before signing up for my next race. All that said, I am hopeful that I'll be able to race a marathon this coming fall.
I ran 17 miles, do I really need to vacuum or wash dishes now?​
SportTracks: What are your goals for your next marathon?
Kyle: My dream goal for the marathon is to run a 2016 Olympic Trials Qualifier (OTQ), which is now 2:43:00 for women (it was 2:46:00 in 2012). I cannot promise I will run an OTQ during my next attempt at the distance, but that is the goal time I will be shooting for the next time I toe the line.
SportTracks: Wow! That is so super-cool! You've shaved tremendous chunks of time off of your previous time in marathons you've run thus far! Just keep that awesome streak alive! We believe in you!
SportTracks: Why 26.2? Tell us how this beastly distance appeals and beckons to you personally.
Kyle: There's just something about the marathon. I can't really describe it. It's my favorite distance to race. I guess I just really like that you have to work at it. You can't just roll out of bed and run a marathon. It involves a lot of energy and devotion to train for a marathon and having a marathon on my schedule just motivates me to get out the door like no other distance does.
You can't just roll out of bed and run a marathon. ​
And then the actual marathon is just such a huge accomplishment for every single person out there, that I always feel emotional at some point while running this distance as I glance around at the sea of runners. I just feel so happy for and proud of everyone that's out there with me. Many have raised thousands of dollars for a just cause, or others are running for some other personal triumph. There's just this huge sense of accomplishment when you've finished a marathon. 
And one other reason I like this distance so much is because unlike shorter distances, there are thousands of friends, and family members out there along the course cheering on the runners because it's such a momentous and inspiring event. I just love the whole experience from the first training week to crossing the finish line. The marathon has taught me that you really can do anything if you set your mind to it.
SportTracks: Well shucks, Kyle! We're getting all choked up over here! Well said, friend! There truly is magic in the marathon, from the hard work and discipline we find within ourselves in training for it to the electric energy of communing with thousands of other runners who share your goal on race day, you really just can't beat anything about the experience. This girl really gets it, folks!
SportTracks: You must be training your butt off, like all day everyday! What keeps you motivated to keep on keeping on day in and day out?
If you work hard and train smart, you will see progress...
Kyle: Ha, I really wish I could train all day every day, but I do work full-time and all I can say is that if you make training a priority, you will find time to do it. What keeps me going is that I love to see and feel the progress I am making during a marathon training cycle. When I run consistently, finish the workouts, do the exercises, and utilize the foam roller regularly, I see results. What you put in is what you get out. That's what makes any goal seem possible. In this sport, if you work hard and train smart, you will see progress, which I find so motivating to keep going!
SportTracks: Amen, sister! (In addition to being speedy, a super-model, and super-nice, Kyle is also incredibly smart and level headed when it comes to training!)
SportTracks: Briefly describe your pre-race preparation routine (the final days leading up to your marathon and race day itself.) We especially want to know if you have any particularly quirky, funny, or bizarre race rituals. 
Kyle: Haha, well of course at least one, or maybe two or three bathroom stops is a must before any race (not just the marathon), but other than that, I try not to get too caught up in any pre-race rituals because I am the type of person who will panic if one little thing is off and I don't need any additional stress on race day. Haha.
All that said, exactly one week before the marathon I will rehearse my entire plan for the following week (i.e. wake up at an ungodly hour, eat my pre-race breakfast, and hit the road at the start time of the race even adjusting for time zone differences if that's going to be a factor). It's good mental practice and you can work out any kinks in your plan.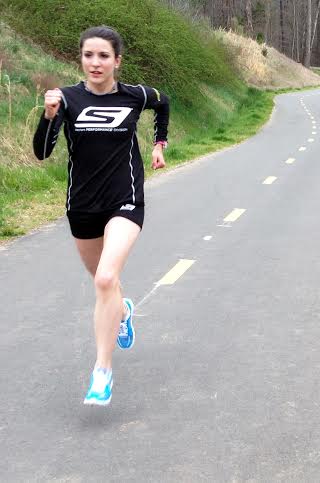 The only thing that may be slightly quirky, is that I will put on my uniform at least twice during race week including my singlet, shorts, socks, shoes, and whatever sports bra has recently been deemed 'lucky' (e.g. I nailed that workout last week, it MUST have been the sports bra) to reconfirm everything is clean, fits, and looks and feels good/fast. I eat additional carbohydrates during the last week before the marathon, and then the day before a race, I basically do nothing except relax. I just try to stay off my feet and eat an early dinner (usually pasta). I do get into bed early, but as you may have experienced yourself, sleeping the night before a marathon is next to impossible due to nerves and excitement.
SportTracks:  A lot can happen over the course of those 26.2 miles on race day. How do you strategize for optimal race execution?
Kyle: The best thing you can do on race day is trust your training and think positively. Everyone on the line from the seasoned marathoner to the newbie on the block is wondering if they can achieve their goal and/or even finish. The answer is you can! Just focus on the fact that you've put in the work and stay relaxed at the start!
You should have made a pacing and nutrition plan prior to race day. The way I manage this is by making myself a pace bracelet that I wear during the marathon. I put my A goal finishing time and B goal finishing time next to each other and then all the splits for each mile at those goal times. If I am somewhere in between this pace for each mile, then I know I'm on track for hitting my goal finishing time. To make things even easier, I also highlight the miles where I'll take a GU. This way when I look down at the bracelet, I'll know if I'm on pace and whether or not I should take a GU at that mile. I will have determined which miles to take a GU based on my long training runs. The day of your marathon is not a good day to experiment with gels/chews/fluids.
One last thing to note is that if you have trained properly and tapered, your legs should feel fresh and springy on race day. As a result, it's easy to get caught up in the adrenaline rush at the start and run out faster than planned. Don't do that. Hold yourself back a little. Get through the half feeling like it's easy. It's usually better to be a little slower than goal pace at the half, then a little faster than goal pace at the half.
To make things even easier, I also highlight the miles where I'll take a GU.
SportTracks: More wise and brilliant advice! Thanks for sharing all of these awesome, practical nuggets of marathoning wisdom with us and our readers!
SportTracks: What is thing that you like most about marathons/ marathon training, and what is the thing you like the least?
Kyle: I absolutely love the long training runs. I do. I love the fatigue during the last few miles and then the sense of accomplishment I have for the remainder of the day once I am done, regardless if I finish any of my other 'to-dos' for that day. I ran 17 miles, do I really need to vacuum or wash dishes now?
My least favorite part of marathon training is how exhausted I feel in general throughout the training cycle. I almost never feel rested after a weekend which usually includes a Saturday workout and a Sunday long run. And with the exhaustion, comes an unquenchable appetite. I just want to eat everything I see or smell everywhere, and unfortunately my checking account is not as substantial as my hunger. Eating during marathon training can be expensive!
SportTracks:  Any additional words of wisdom or advice for your fellow marathon trainees out there who might be reading this post?
Kyle: Well first off, you are awesome! When you are surrounded by runners regularly it's sometimes hard to recognize that you are doing something so incredible, but I have read that less than 1% of the US population has finished a marathon, so kudos to you for going after this! My advice would be to be realistic about your goals. Make them challenging enough that you feel motivated to get out the door each day, but not so easy that you don't hold yourself accountable to get the work done. Celebrate your accomplishments, and learn from the experiences that don't go well. Trust the process and believe in yourself.
Good luck to all with a race coming up!
SportTracks: Kyle, it has been such a pleasure chatting with you! You have offered up a generous helping of pro tips and great advice for our readers, with an extra side of motivation and inspiration! Thanks so much for sharing your infinite marathon knowledge with us! We really believe that your passion and drive, your training intelligence, and your healthy, positive outlook will prove to be just the tools you need to snag that OTQ! Best wishes to you as you continue to move forward with your amazing marathon journey! We have a feeling that great things are coming your way!
Article written by Ellen Moss, Social Media Manager, Zone Five Software Inc.