Marathon Motivations (3/5)
Rose: Getting over the injury hump
Rose: Getting Over the Injury Hump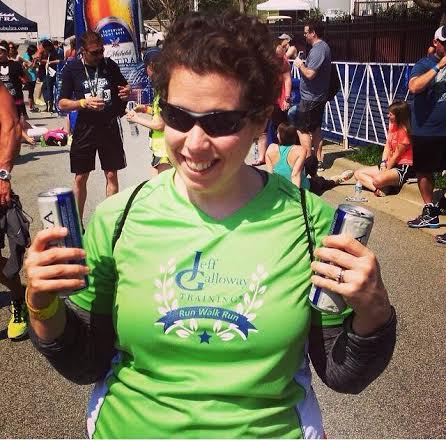 Hello again, SportTracks readers! Thanks for coming back for yet another day of our Marathon Motivations blog series! Today is Hump Day, and it seems like as good a time as any to talk about the metaphorical humps, walls, and valleys often encountered by runners along the road to the marathon finish line. Today we will be chatting with Rose, a marathoning hopeful who has faced a few injury road obstacles on her journey to 26.2-ville. Read on to learn more about what Rose has learned from her experience and how she'll be applying these lessons as she keeps moving forward towards that sweet marathon finisher's medal.
But First, a Few  Words About Why Rose is Awesome:
Rose and I met on the internet. Bonded by our shared love for Oiselle running apparel and Picky Bars, plus our mutual disdain for the discriminatory nature of beanies with ponytail holes, we became fast Twitter BFFs. The next thing I knew, we were yakking our faces off in person at the local running store where I work when I am not stalking your every blog post and race report from the safety and comfort of the SportTracks Twitter dashboard. The rest is history. Rose is one of the most fantastically authentic people I know. She has an uncanny ability deliver honest, straight-forward, uncensored, witty commentary in way that only endears her in the hearts those she encounters, and leaves us all snorting with laughter to boot! I know that she's been pretty bummed and frustrated and pissed about her current injury situation, and I'm so proud of and impressed by the way she has met it head-on and made the best of it. I think it's very brave of her to share her story with you today, and that it is one many of you out there can relate to. Without further ado, here it is...
Our Marathon Motivation Interview with Rose:
SportTracks:  How many marathons have you completed?
Rose: None, this whole marathon thing is totally uncharted territory!
SportTracks: What marathon are you currently training?
Rose: I was training for the inaugural Rock n Roll Raleigh marathon, that is until I started feeling pains in my hip after my first 20 mile training run. Unfortunately, the pain did not go away and after two weeks I sought professional help from a sports med orthopedic doctor. I was diagnosed with a whole range of soft tissue injuries in my IT band, piriformis and the area surrounding my SI joint. So instead of running the marathon I am doing some pretty intense PT sessions so I can get back into my running shoes ASAP. Luckily I have a back up plan - the Marine Corps Marathon in October.
SportTracks: Dude. That is a mega-bummer! We're so sorry that you are injured, but we applaud you doing the responsible thing in seeking professional help and taking care of yourself. We runners can be pretty compulsive and over-zealous sometimes, especially when it comes to marathon training, and choosing the choice that you chose is often easier said than done. But be confident that you made the right decision, and keeping doing the work at your PT sessions! You're going to be back and better than ever for Marine Corp! We just know it!
SportTracks: If it isn't too awful for you to talk about, tell us about marathon training goals.
Rose: I started training for this marathon with the most common goal of first time marathoners - I just wanted to finish. I wanted to arrive at the start line healthy and finish (somewhat) strongly. Clearly that did not happen for me this time around. But I'm more motivated than ever to heal my injury and start all over again for the fall.
SportTracks: Why 26.2? Tell us how this beastly distance appeals and beckons to you personally...
Rose: I have been running on and off for the past 10 years. For the first nine years I always said that I would never do a marathon. I just never had the desire. I started out with the 5Ks and 10Ks before finding my true love in the 13.1 distance. Then gradually through my training for the Philadelphia half marathon (my sixth half marathon) last fall, a seed was planted in my head and little by little I thought that, just maybe, I could tackle the full beast. During the course of training for Philly I decided to try a 16 mile training run with my friend. At the time it was my longest distance ever and I wanted to see how my body could handle it. I did not die! In fact, I felt great and knew that with training I could definitely add another 10.2 miles. Right after that run I started to research full marathons for Spring 14. It just seemed like the next logical step in my relationship with running.
SportTracks: We know you probably feel like running is kind of being a hater right now, but it sounds like you two have had a pretty awesome, healthy relationship thus far! We're really enjoying hearing all about it, and we know that this injury and it's recovery are just another steps towards making you stronger (mentally and physically) so you can rock that 26.2 distance when the time is right!
SportTracks: Prior to your injury,you must have been training your butt off, like all day everyday! What keeps you motivated to keep on keeping on day in and day out?
Rose: This training cycle was tough logistically. I have a husband who works 70-80 hours a week, two small children and my own full time job. Needless to say, finding time to fit in my workouts was difficult. But as many mother runners will say, my running is the only thing I have that is truly just mine. My time to forget the demands of my family and work and to just focus on me and my goal. I loved getting up and running and being home before anyone woke up. I felt like I could conquer (most) anything life threw at me that day.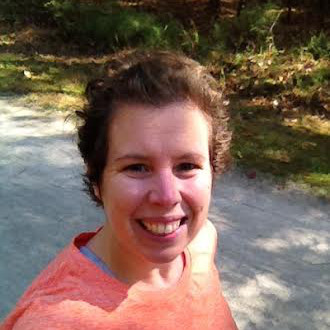 SportTracks: Mother runners like you are seriously our heroes! You gals are the ultimate masters of discipline and balance and we have absolutely no idea how you do it! Mad props to you and to mother runners everywhere!
SportTracks:  Briefly describe your pre-race preparation routine (the final days leading up to your marathon and race day itself.) We especially want to know if you have any particularly quirky, funny, or bizarre race rituals.
Rose: I've never considered any my pre-race rituals as quirky. I keep my legs fresh, eat a few more carbs than usual and obsessively stalk the weather. I had no plans to change things up for this race.
SportTracks: See, there's that unwavering mother runner efficiency and practicality shining through! :)
SportTracks: A lot can happen over the course of those 26.2 miles on race day. How do you strategize for optimal race execution? 
Rose: *Confession: The answer I'm about to give you sounds like total cheese, but I swear it's 100% effective and true! Ok, here goes... Around the time that I signed up for my marathon my training partner and good friend surprised me with an Endorphin Warrior bracelet with the word "Courage" on it. I had mentioned to her that I had used that word a lot in training for the Philly Half marathon. I was gunning for a goal time that had been eluding me for quite some time and I was finding that I was having trouble pushing myself towards goals that were scary for me. Often my mind would give up long before my legs. I had planned to wear that bracelet during my race to remind myself that I am strong enough, mentally and physically, to push beyond these mental barriers I put in front of myself and achieve big goals. (BTW, IPR'ed Philly by 6 minutes.)
SportTracks: A 6 minute PR?!? There is most certainly nothing cheesy about that, Miss Thang! And positive thinking exercises like what you described are a total legit strategies for preparing for and running a big race! So go on with your "Courage" bracelet, girlfriend!
SportTracks: What is thing that you like most about marathons/ marathon training, and what is the thing you like the least?
Rose: Best part of training - My running group. There is NO WAY I would have faced the Polar Vortex in nothing but spandex every Saturdaymorning for my long runs without them. 
Second best part - Like many runners, I'm a numbers girl. I had so much fun logging weekly mileage totals higher than anything I've ever done. A couple of new personal distance records. All of it. I just liked running long.
Worst part of training - 1000%, the worst part was getting injured right at the 20 mile mark. I'm still coming to terms that my hip problems will have me sidelined for much longer than I initially anticipated. I think the worst thing about it is that I didn't see it coming. There were no warning signs. I was riding high on training endorphins. During the run itself I felt strong. I finally made it to the 20 mile run! It's a huge milestone in marathon training. Especially for your first time. Then the next day I had so much pain all around my left hip and lower back. I iced, foam rolled, stretched. I did every thing I thought I was supposed to do. I took a few days off with no improvement. By the time I got to the doctor's office I knew what was going to happen, but hearing him say "No" when I asked if I could run the marathon was devastating. I'm talking full on ugly crying as soon as he left the room. 
Second worst part of training - The f'n polar vortex. I've never been so cold in all my life. Thank god for fleece lined tights!
SportTracks:  Any great words of wisdom or advice for your fellow marathon trainees out there who might be reading this post?
Rose: Cross train! Lift heavy things! I probably fell prey to the notion that you can train healthy for a marathon by running alone. Looking back, I should have added more cross training to my plan and focused a lot more on my core work. I know that when I look back on this training cycle that was cut way too short, I will always wonder if I could have avoided this injury had I paid more attention to strength training. I will never know the answer, but I think it is a safe bet. What I do know is that I will have a lot of work to do to get back into shape once I am cleared to run and strength training will play a much more important part.
SportTracks: Rose, thanks so much for sharing your story with us! We're truly sorry that things didn't go as planned for you this training cycling, but know that you are mostly certainly not alone in your marathon training frustrations, and we're willing to bet that this post will provide reassurance, comfort, and validation to many readers out there who may be in similar situations. It's clear that you have learned a lot from this experience and we know that these lessons will serve you well when you are ready to take on the marathon next time! We think you are really brave and awesome, and we look forward to the day when we can write a blog post highlighting your amazing first marathon experience. Until then, heal quickly and rock on!
* You can follow Rose at http://www.roserunson.com/ and @RoseRunsOn
Article written by Ellen Moss, Social Media Manager, Zone Five Software Inc.