New gear-tracking features!
More ways to analyze gear usage and filter your workouts
Gear tracking has been a part of SportTracks for a long time, but we often add new features to make it even more useful and informative. A bunch of these little updates were released this month, and now we're going to show you how to use them...
Interactive gear history charts
The gear history charts in SportTracks have always been interesting — seeing your usage visualized quickly highlights periods of inactivity, regular use, and surges. With the new update, you can now hover over these charts to see the total usage at exact moments, or click and drag to see the usage during a selected timeframe.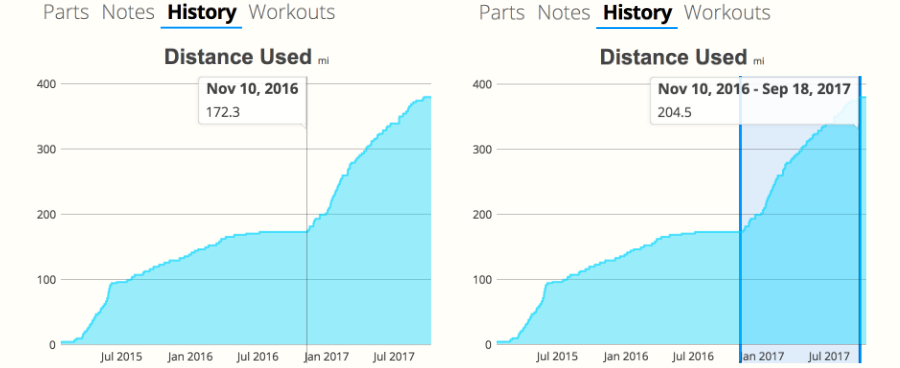 New "Workouts" tab on your gear pages
As you can see in the screenshots above, your gear items have neatly organized tabs for Parts, Notes, History, and Workouts. The Workouts tab is new, and it's exactly what you think it is: it lists every workout you've done with that specific piece of gear.

Filter your workouts by gear usage
Your Workout page has a powerful new filter in its menu: Gear! In addition to filtering your workouts by Sport, Pace, Distance, and more, you can now list your activities by the equipment you used to execute them.
Which shoes did you wear in that fast half marathon? Do your swim times differ in your jammers compared to your tri shorts? Answer these questions and plenty more with a few short clicks.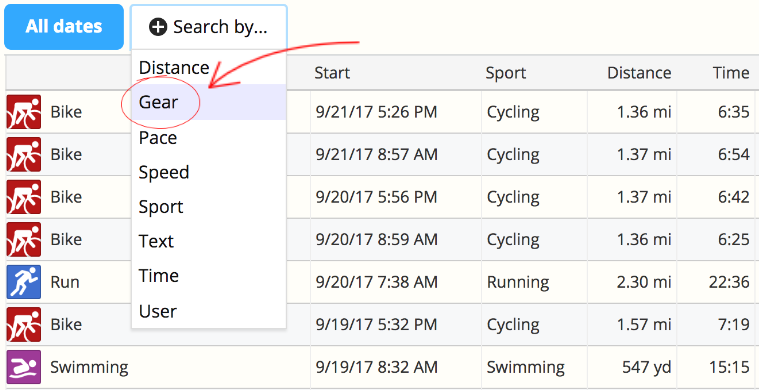 You can also use the new gear filter on the Workouts page to speed up bulk edits. Forget to add a new tire to a bike? After you add it to your Gear page, simply filter your workouts by the bike frame, then hit the "Select" and "Edit" options in the upper right of the Workouts page to add the new tire to your activities that incuded it.
As always, we hope you like these new, little features, and that they enhance your training and racing in small, yet meaningful ways! 
Article written by Sam Mallery, Director of Marketing, Zone Five Software Inc.