Weather Tracking
Track weather to understand how it impacts your performance
As every endurance athlete knows - weather conditions are an important factor in your workout performance. Extreme cold or heat and humidity can impact your body's cardio and muscle systems. A strong headwind can crush your pace. Poor conditions can kill your motivation.
Being unfamiliar with your performance in different conditions can result in an unwanted race-day surprise when the weather changes.
That's why it's important to track weather conditions during your workouts. But remembering to enter conditions is a lot of work, and simply recording notes doesn't allow you to quantify the effects of weather.
Starting today we've enabled weather tracking in SportTracks, including the automated download of worldwide historical weather conditions and ability to edit all your workout weather data. This feature is immediately available for your entire workout history. Read on for details on this new feature and how to get the most of it.
Workout detail weather info
The first place you'll see weather is a small indicator in the workout details map section. At the top right of the map we now show temperature, conditions, wind speed and direction:

Clicking the weather opens a detail page: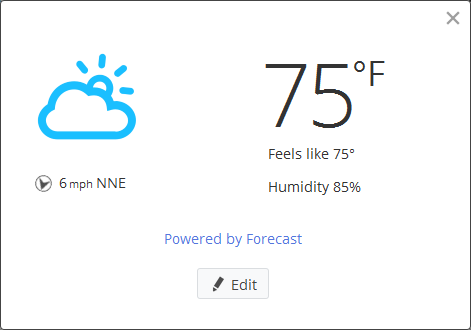 Here you'll see additional details such as the humidity and "feels like" temperature that incorporates wind speed, sun exposure and humidity. If your workout happens during extremely rare conditions, you may also see a special message. We're not going to tell you all the messages you might see; you get to discover them on your own.
Weather data quality is highly dependent on your location, specifically, your proximity to weather stations included in the global weather database we use. For this reason, you may need to occasionally correct data that is off. Click the Edit button to edit your data. You have full access to all the weather data we track.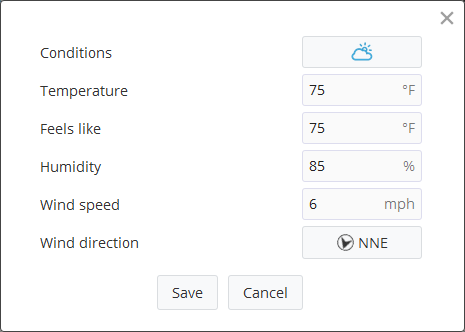 Tabular weather data
Looking at a single workout is a great way to understand how your performance may have been impacted by weather on that day. You can also tease out trends in your data by looking at the workouts view. Add the temperature column to show workout temperature and how it might relate to your pace on certain courses. You can use the same filtering options that you're familiar with to find specific sport types, distances, or a speed range, then sort by the hottest or coldest temperature.

One of the best things about the new weather tracking feature is that it's fully automated. There's nothing you need to do to get weather data on your workouts. It just works; giving you more time to focus on the important things in your training plan.