Don't Ignore Your Gait!
Why you should buy running shoes from a specialty store
As much as I want brick-and-mortar stores to survive the disruptive rise of online retail, I'm very much guilty of clicking to make purchases in my pajamas from the comfort of my home, week after week. But there are certain shopping experiences that are profoundly more beneficial in physical stores staffed by friendly and insightful people. Local bike shops are one, and specialty running stores are another.
I'm not talking about large sporting goods chain stores. What you want is a shop that has a staff of experts with knowledge specific to running, and a large variety of shoes to choose from. If a chain store can pull this off, hallelujah — but you will likely need to visit an independent local running store.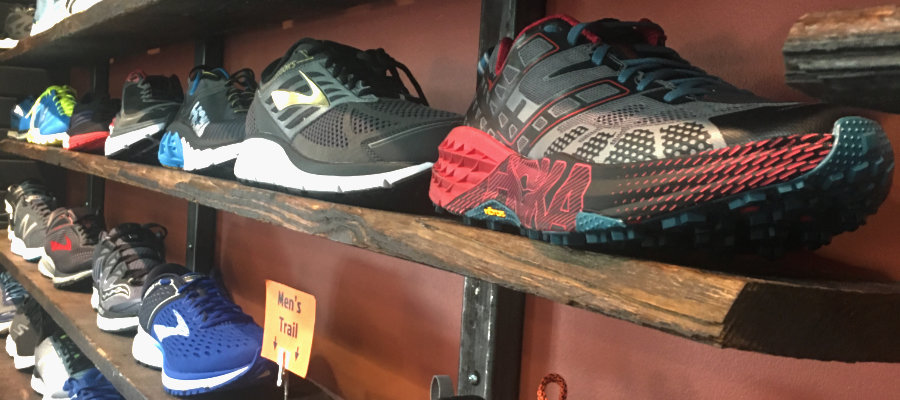 What do you get when you purchase from a specialty shop? Different stores offer different services, but the basic idea is that you get individual gait analysis, followed by running shoe suggestions based on the physical characteristics of your feet and the way you run. Sometimes these shops accomplish this with treadmills and slow-motion video cameras, other times all that's required is the expert's keen eye.
When you visit one of these shops, the idea isn't to browse the selection and pick shoes based on how they look, or how compelling their technical design may be. In order to fully maximize a visit to a specialty running store, you don't choose the shoes at all — that job belongs to the staff.
Key tips for your visit
1) Wear your normal running gear - When you're ready to buy new shoes, arrive at the running store wearing your normal running gear. Wear the shoes you've put the most miles on recently, bottoms that don't obscure the view of your feet, and a top that you're comfortable running in. Why? The shop is likely going to ask you to do several short runs before the ideal pair of shoes are decided upon. 
2) Be prepared to remove your socks - Not only will a reputable running store want to see you move and run, they will also want to inspect your naked feet. They will likely check out your arches and have you do some basic maneuvers like standing on one foot. This is done to help them better determine what kind of sole and cushioning would best suit your feet. Giving your toenails a clip and making sure the running socks you wear are freshly laundered is strongly advised.
Even though I've been wearing men's size 10.5 US for as long as I can remember, the shop only had me try on 11.5 shoes.
3) Pick the shoes you like the most - Specialty running stores typically provide services like organizing local races and training groups, but the main reason to visit one is to receive expert advice on what gear to buy. It's wise to listen to everything they have to say and to strongly consider their recommendations, but when it comes time to make a decision, listen to your heart and choose the shoes you like most. You're the one who is going to put them on and head out the door to run. Get the pair that provide inspiration and a comfortable fit.
Highlights from my shoe fitting
My right foot is longer than my left! The same two feet have been attached to my body for my entire life, yet I never spent five minutes properly measuring them. It was charmingly retro when the shop had me stand on their foot-measuring tool. It was shocking when they then asked me to step on it with my other foot and the length jumped up half a size.
Even though I've been wearing men's size 10.5 US for as long as I can remember, the shop only had me try on 11.5 shoes. A full size larger! I ended up buying 11.5 shoes and have already put 64 miles on them, and they've been wonderful. The shop went a full size up because of my longer right foot, but also because your feet swell during long runs. The extra room helps prevent black toenails and other run-related ailments.
Last but not least...
No matter how you end up getting running shoes, be sure to track their usage. You can easily set SportTracks to automatically add your shoes when you complete a run workout. I have my Stryd footpod auto-tagged with my shoes in SportTracks, so its usage is automatically added as well. Once this is set up it literally requires zero effort on your part. The reason I visited this shop when I did is that I had exactly 501 miles on my old pair.
The instinct to save a few bucks by obtaining running shoes through other retail channels is understandable, but this is an area where the right advice can help you avoid nagging injuries and optimize your performance. You can't do all of your purchasing in pajamas, sometimes it's best to wear your singlet instead.
Article written by Sam Mallery, Director of Marketing, Zone Five Software Inc.