Polar Vantage V
Hands on with Polar's first new flagship multisport watch in 5 years
We've become conditioned to the idea of planned obsolescence, where you buy the latest-and-greatest device today with the understanding that it will be out-of-date within a year, and the pressure to upgrade will begin again. Not every manufacturer espouses this approach, however, and in endurance sports tech, this is one of the qualities that sets Polar apart.
Their last flagship GPS multisport watch was the V800, which was announced way back in January of 2014. To put that in perspective, when it hit the market, two of its main competitors were the Garmin Fenix2 and the Forerunner 910XT. While Garmin raced ahead rapidly iterating on several model lines, Polar focused on the V800 and continued to fully support it and add substantial new features via firmware updates well into late 2017.
In September of 2018, the new Polar Vantage V and Vantage M sports watches were finally announced. The new line marked many big changes for Polar: an entirely new codebase, a shift to Sony-based GPS chipsets, and round watchfaces as opposed to square. With sports tech hardware, big changes usually bring with them periods of time where issues must be worked out. This has been the case with the Vantage series, but a series of firmware updates have corrected many problems and added useful features.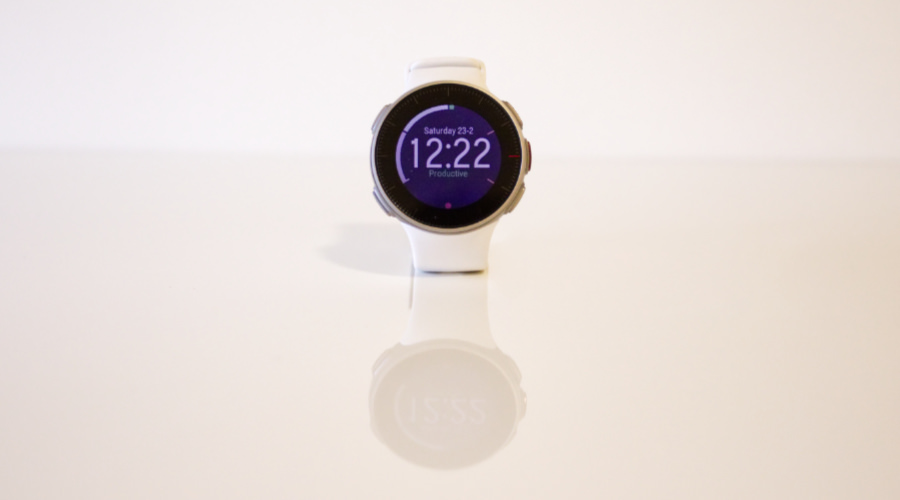 The new Polar Vantage V feels as good as it looks
The higher-end Vantage V features the world's first wrist-based running power meter. Every other commercially available running power meter requires an external sensor such as a footpod or a chest strap, but the V doesn't need any additional hardware. I've used several running power meters, and the experience of having one built into your watch without any additional charging and pairing is a major advantage.
In addition to its marquee run power feature, the Vantage V has a touchscreen, five nicely sized buttons that make it possible to almost completely ignore the touchscreen, a barometric altimeter, a 9-LED optical heart rate monitor, and a powerful battery that provides up to 40 hours of continuous use with the GPS and heart-rate monitor running, which is impressive. It feels great, it has a durable metal body, and a Corning Gorilla 3 glass screen. It's premium throughout.
Differences between the V and the M
This review is focused on the Vantage V, but it's worth mentioning that the more affordable Vantage M is impressive in its own right. Most notably, it provides 30 hours of battery life with 1-second GPS and optical heart rate monitoring. The M doesn't have a built-in running power meter, but it's compatible with external run-power devices like the Stryd footpod (the Vantage V is also compatible with external running and cycling power meters).
Another differentiator is that the Vantage M lacks Polar's "Recovery Pro" features. As the name implies, Recovery Pro helps you monitor how well you recover from workouts to avoid overtraining. You need to have the separately available Polar H10 heart-rate strap to use Recovery Pro with the Vantage V, and you need to conduct several Orthostatic tests which can be carried out using the interface of the watch. We didn't have access to an H10 strap to try out this feature, but we're satisfied using mobile apps like HRV4Training and Elite HRV for similar feedback. However, like its built-in power meter, having recovery monitoring integrated into the watch creates an appealing, all-in-one solution for serious athletes.
There are more differences between the Vantage M and V: You can easily change the straps of the Vantage M with any 22mm interchangeable band, it weighs significantly less, it doesn't have a touchscreen, the buttons are not as high quality, and there is no barometric altimeter. Aside from these differences, the Vantage M can do almost everything the Vantage V can, making it an appealing mid-range multisport option.
Setting up and using Vantage V
After unboxing, ogling, and fully charging, it was time to get the Vantage V set up. One of the first things I did was to enable auto-sync between Polar Flow and SportTracks. This literally takes less than one minute to do: In SportTracks select your profile > push the "My account" button > select the "Sharing" tab on the left > press the "Connect" button at the top, then select Polar from the list. You're taken to Polar's site to authenticate and you're finished.

Interesting aside, when you're setting up the Vantage V, it suggests using the watch on your non-dominate wrist. So if you're right handed, it suggests wearing the Vantage V on your left wrist for more accurate activity tracking. I took this suggestion to heart and wore the Vantage V on my left wrist, even though I always wear watches on the right wrist.
In addition to daily activity tracking, the Vantage V can also track continuous heart rate, track your sleep, and receive notifications from your phone. Judging from its classy visual appearance and all-encompassing feature set, the Vantage V is clearly a device that was designed to be worn all the time, not just for workouts.
Using the Vantage V for sports
Before I worked out with the Vantage V, I spent a little time on the Polar Flow website adjusting the sports profiles that I use most often. There are over 130 sports profiles to choose from, and you can  also customize them with the Polar Flow mobile apps (but not on the watch itself). I made a point to add my training zones and other physical information. This process was intuitive, fast and easy.
Getting familiar with the button layout to control the Vantage V was also easy. Everything makes sense, so the people out there who hate reading manuals will be happy using this watch. Most actions can be handled with the physical buttons, but, just like on a laptop computer, I found that I preferred to occasionally touch the screen for certain commands. The touchscreen is disabled when in sport mode, which is good, as sweaty fingers and touchscreens don't work well together.
DC Rainmaker and The 5K Runner have both written extensively about the accuracy of the GPS and heart-rate data from the Vantage V. In summary, it isn't currently as accurate as some competing devices. In my time using the Vantage V, I did notice that it would occasionally have inaccurate GPS tracks. However, every GPS watch I've ever used has provided inaccurate GPS data from time to time.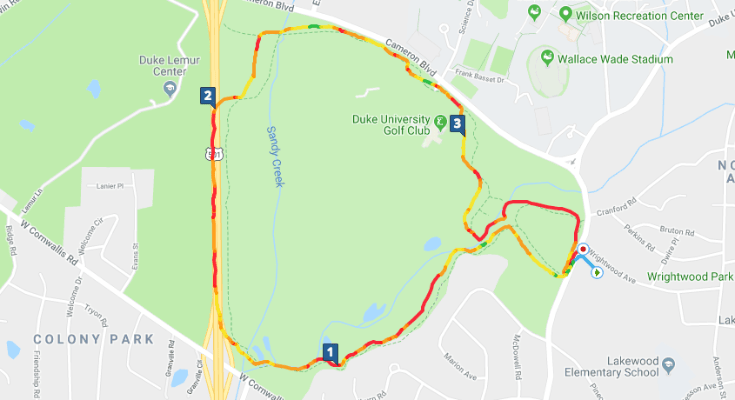 The GPS track for this off-road trail run veers onto a highway, but the distance was accurate 
I tend to rely on running power and pace as my main running metrics, so I didn't notice anything unusual with the heart-rate data from the Vantage V. In various forums and blogs, I read about other people reporting heart-rate dropouts and spikes with this watch, but I didn't experience it myself. If you focus on heart-rate data for training and racing, it's definitely worth the extra effort of using a dedicated heart-rate strap as opposed to an optical monitor on your wrist.
If there's a fault against the heart-rate monitor in the Vantage series (both the V and the M have the same one), it's that it looks elaborate and advanced, yet it only provides average and acceptable performance. Polar has a good track record for improving their devices over time, so there's a chance it will get better in the future. But for now, it's just decent. I do appreciate how it records heart rate while swimming, and I also like how the metal charging contacts detect your skin and shut off the monitor when it isn't being worn.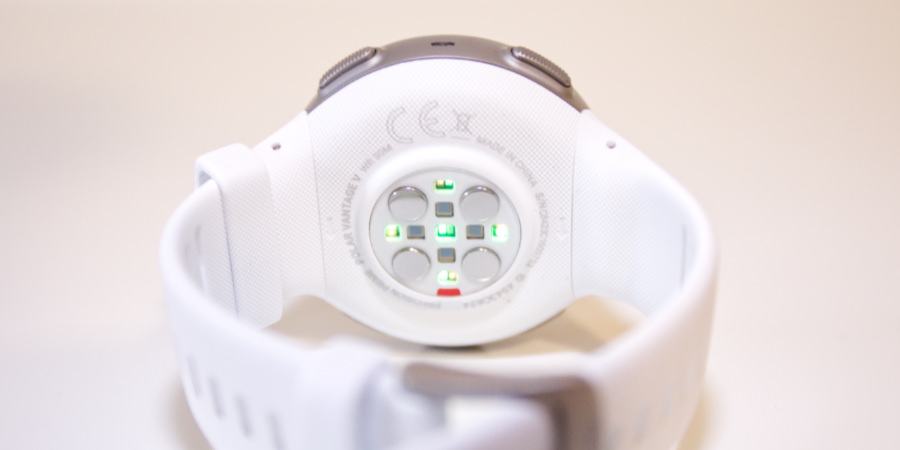 Using Polar's running power
As I mentioned earlier, having a running power meter built into your watch is a superior experience compared to pairing a watch with external sensors. I've used the Stryd footpod extensively, and as expected, the run power numbers from the built-in meter on Vantage V were remarkably higher. For example, my target power for a typical 10K run with Stryd is around 260 watts. The same target with Polar's running power is around 325 watts.
One of the big drawbacks of using running power is that, unlike cycling, there is no standard measurement that all running power meters agree upon. So, an effort that's measured as 260 watts on Stryd is measured as 325 watts with Polar, and another completely different number with Garmin Run Power, and so on.
You also need to spend a lot of time with a running power meter before you start using the data for serious training and racing. You need to put in a few of months of runs just looking at the wattage, comparing it to pace and other metrics, and analyzing it post-workout. After a while, the feedback from the device becomes second nature, and you can start applying it to more effectively gauge your effort on uphills and flats.
I didn't have the proper amount of time it takes to fully delve into Polar's running power, but I did notice that it was consistent. I would be running along and think, "This effort feels like it's around 295 watts..." I would glance at the Vantage V, and I would be close to that number. That's exactly what you want. If you're already a Stryd user, you can use it with the Vantage watches, and you can set the watch to record GPS for your map, but use Stryd for power, distance, and pace. The fact that Polar goes out of their way to embrace third-party running power meters proves that your experience is their ultimate priority.
Closing thoughts...
Overall, I found the Polar Vantage V to be a high-quality multisport watch. The design, materials, and execution of the physical product are all top notch. If you've been using another watch platform and you're looking for a change, I think the Vantage series are worth a close look.
If you're already a devoted Polar user of the M400 or V800, you may find that the Vantage watches are still playing catch-up a bit, but they are making advances quickly. Completely rewriting the code for a model line that has apps for iOS, Android, Mac, PC, and a web app is no small feat. But even in the relatively short time I had the Vantage V, there were numerous firmware updates that made noticeable improvements to the device.
Wearable technology and fitness tracking has exploded in popularity in recent years, but Polar is no newcomer to this area. They're the opposite. Polar is a major innovative force that brought the first sports heart-rate monitor to market in the early 1980's. Like SportTracks, they're committed to improving and supporting their products for the long term. If this is a quality you want in your next watch purchase, you've found it.
Article written by Sam Mallery, Director of Marketing, Zone Five Software Inc.