Marathon Motivations (1/5)
Paul: The freshly-minted Boston qualifier
Paul: The Freshly-Minted Boston Qualifier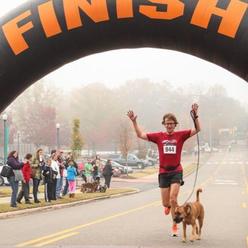 April is Marathon Month, and one week from today it culminates with the granddaddy of them all, the Boston Marathon! I, Ellen Moss,SportTracks Social Media Manager and Blogger Extraordinaire, will be toeing the line in 
Hopkinton for my 2nd Boston Marathon, and I seriously could not be more excited about it! I can only imagine that I will be in the company of a few of you SportTracks blog readers on this 26.2 mile jaunt to Boylston Street, and that there are plenty more of you who have conquered or will conquer the glorious marathon distance sometime this month or in the very near future.
 To get us adequately pumped up and inspired for the big day (or in honor of your recent marathon accomplishments), everyday this week SportTracks will be highlighting a different runner and their unique marathon story. I am particularly excited for this blog series because each marathoner/ marathoning hopeful is a friend and inspiration of mine, and can't wait to share all of their great stories with you!
We'll start with Paul, "The BQ Chaser"... After several attempts, and a whole lot of diligent training, Paul nailed a Boston qualifier and a stellar new marathon PR! This post profiles his journey to achieving the elusive BQ standard that drives so many of us to focus on the marathon distance.
But First, A Few Words About Why Paul is Awesome...
Paul is the guy who seemingly never has a bad run. I am fortunate to have him on my list of fellow runners that I most frequently encounter on the trail because no matter how early the hour, how disgusting the weather, or how heinous the workout, he and his canine training partner Daisy greet everyone they see with big smiles, gushing enthusiasm, and encouraging words.This dynamic duo's consistency and unwavering positivity is a source of happiness and inspiration in our local running community. So without further ado, let's talk about what motivates him to take on the marathon distance and how he finally caught that big Boston qualifier!
Paul's Marathon Motivations Interview:
SportTracks: How many marathons have you completed?
Paul:   Six
SportTracks: What marathon have you completed most recently?
Paul:   Tobacco Road Marathon on March 16th, right here in Durham, NC! 
SportTracks:  What  were your goals for your recent marathon?
Paul: To Boston Qualify – sub 3:25 – dream goal of 3:18 = Result 3:13 Yay!
SportTracks: Whoa, dude! Way to crush your dream goal! So baller!
SportTracks:  Why 26.2? Tell us how this beastly distance appeals and beckons to you personally...
Paul: A 5K is fast and fun.  A 10K is tough.  A half marathon makes you think a little.  A marathon scares me.  It is so far and how can you run fast for 26.2 MILES?!?  Going through the marathon training cycle and marathon itself, you can learn so much about yourself.  I am addicted to the marathon and trying to master it to the best of my abilities.
SportTracks: Sounds like you took a big step closer to total marathon mastery at Tobacco Road! Rock on!
Sport Tracks: Why Boston?  What's the allure of The Great BQ Chase for you?
Paul: One of my running friends had just finished running Boston. He raved over what a fantastic event it is and explained you have no idea how fantastic it really is until you do it. You have to experience it.  He encouraged me to keep hacking time off my marathon time and told he believed that this goal was well within my reach.  This conversation happened when my marathon PR was still 22 minutes over the qualifying standard. When my next marathon hacked off 11 of those minutes, the challenge to BQ was on. I was hooked.
SportTracks: And then in your next marathon you nailed the BQ by a tremendous margin! What an awesome success story!
SportTracks: You must be training your butt off, like all day everyday!  What keeps you motivated to keep on keeping on day in and day out?
Paul: "I am not going to get any faster sitting on the couch" is something I say to myself to get out the door and run.  The goal of being able to say on race morning that you have done everything you possibly could do to train and prepare for the marathon race also keeps me going.
SportTracks: Briefly describe your pre-race preparation routine (the final days leading up to your marathon and race day itself.) We especially want to know if you have any particularly hilarious or unusual race rituals.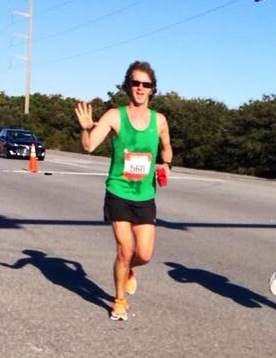 Paul: Block out the negative thoughts, think of the great opportunity you have to unleash all of your training on race day.  Trust your training!  I will go back and review my previous marathon and current training cycle write ups/journal entries to give myself a reminder of how hard I have worked.  I also make it a point to lay around and do as little as possible to rest up. And of course I've got to make sure my LUCKY SINGLET is ready to go on race day.
SportTracks: What's so lucky about this lucky singlet of yours?! Tell us more!
Paul: Why is my lucky singlet lucky?  Because it really is lucky!  I bought it in advance of running a marathon on St. Patrick's day figuring the luck of a green singlet could only help - AND it was only $6 after using a discount.  I first ran in it during a 10 mile tune up race and PRd.  I then PRd my St.Patrick's day marathon (who knew everyone would be wearing green that day and my wife would have a hard time picking me out of the crowd of runners).  That $6 dollar green singlet from Bull City Running CO. is just plain lucky!
SportTracks: $6.00, green, AND PRs every time you wear it?!? That's a very lucky singlet indeed! 
SportTracks: A lot can happen over the course of those 26.2 miles on race day. How do you strategize for optimal race execution? 
Paul: Well, I've broken it down into some simple macro-categories for you...
Pacing - For me – even mile splits is my goal (with a tolerance level built in for hills).  I want to get to 20 miles and then really challenge myself and see what I can do in that final 10K.
Nutrition – during training cycle – high carb diet designed to get lean.  Race day is Gatorade at every aid station and GU(non caffeine) 5, 10, 15, 20 and if I can tolerate any more after that I may even have one more before the finish.
Mantras – Trust your training.  Today is going to be a great day.  Your watch race predictor says you can run this fast. (I mean, the watch doesn't lie, right?)
Visualization – For my last marathon, I had an expert knowledge of the course from running it all the time.  I could picture the entire route in my mind and I could see myself running every section strong.  On race day – do not think about how far you need to go early on – it does not help anything (I am at the 8 mile mark – I still have 18 to go is a mind crusher!)
SportTracks: What is thing that you like most about marathons/ marathon training, and what is the thing you like the least?
Paul: I love training for marathons.  I love everything about it.  Long runs, recovery runs, tempo work, speed work, strides, marathon pace runs, races to check your fitness, yoga/stretching, healthy eating, seeing improvements, making adjustments, managing the fatigue, waking up early to get a long run in before work – everything.  Being able to share ideas and experiences with other runner friends is awesome.
SportTracks: Any great words of wisdom or advice for your fellow marathon trainees out there who might be reading this post?
Paul: You can do it.  Run strong!  You should feel tired after a 20 mile training run and yes you will be able to go another 6.2 on race day!  Completing a marathon is a huge accomplishment.  A marathon will change you!
SportTracks: Awesome! Thanks so much for taking the time to share your marathon story with us, Paul! We really admire your uber-positive attitude and your boundless enthusiasm for the sport of running! Keep on training hard and inspiring other runners, and we know you'll rock the socks off of Boston Marathon 2015!
Article written by Ellen Moss, Social Media Manager, Zone Five Software Inc.