The Garmin Forerunner 45
The entry-level Garmin Forerunner 45 gets a big update
We take endurance sports very seriously, so our attention tends to focus on mid-level and advanced GPS sports watches and devices. However, Garmin just updated their entry-level lineup of watches with the new Forerunner 45 and 45S, and before you dismiss them as insufficient, take a closer look. It turns out they're actually powerful workout trackers, and may have everything you need.
There are two separate model names because this watch is available in two different sizes. The smaller watch is the 45S, which has a 39 mm case, and the larger is the 45, which has a 42 mm case. If you don't like bulky sports watches, this series takes care of you. If you're looking for a more advanced sports watch with a smaller case from Garmin, your next option up is the pricey Fenix 5S Plus.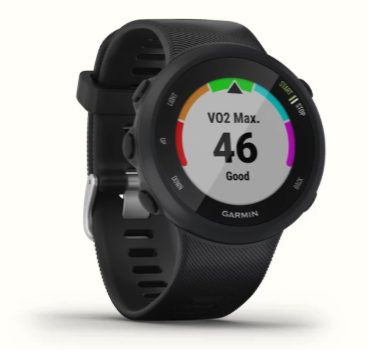 One of the ways this new generation of watches is radically different from the old Garmin Forerunner 35 is that the display is color as opposed to monochrome, and round as opposed to square. It's also worth noting that the screen has a diameter of 1.06" (26.3 mm), and it's the same on both sizes. The larger Forerunner 45 simply has thicker bezels.
Another big change in the new generation of this watch is the inclusion of Garmin's five-button control layout, the same as you get with the Forerunner 245 and 945. The old Garmin 35 only had four buttons, which made some operations require more presses and menu hunting. Now the experience is seamless throughout the Forerunner lineup, so if you transition from a higher-end Garmin — you'll be right at home.
The basics of the Garmin Forerunner 45
The new Garmin Forerunner 45 is loaded with all of the basics that people expect in a sports watch. It's got the ability to track workouts via GPS with pace, distance, and intervals. It can lock with a few different satellite systems, such as standard GPS, GPS + GLONASS (a Russian satellite system), and GPS + GALILEO (a European Union satellite system). The battery life is excellent, with 13 hours of operation with both GPS and heart-rate running, and 7 days of life in smartwatch mode.
The Forerunner 45 tracks your activities throughout the day and tracks your sleep at night. It has smartphone integration with notifications for texts and calls, weather information, calendar sync and more. Like the last generation Garmin 35, an optical heart-rate monitor is built in, and it's an improved third-generation version of the Elevate HRM, so it provides decent accuracy.
Advanced features
It's now possible to load custom structured workouts into the new Garmin Forerunner 45, which you can easily create in SportTracks and send to the watch, which is impressively powerful for an entry-level device. In addition, you can also now set up custom alerts for your heart-rate zones, pace, distance, and more. The 45 will also automatically estimate your VO2 Max.

One area that separates the new 45 from the more advanced Forerunner watches is its compatibility with Connect IQ, Garmin's app ecosystem. The 45 is able to access and use watch faces from Connect IQ, but it can't use custom data fields or full apps. It's great that you can use watch faces, because there will be hundreds to choose from. But it's a bummer that you can't run full apps and data fields, because there are some great ones, such as Workout Builder by Genus Wrist, and fun (yet motivational) stuff like Beers Earned Plus.
Other notable updates to the Garmin Forerunner 45
Stress Tracking and Body Battery - New Stress Tracking and Body Battery metrics keep track of how much stress you're enduring, and measure how much energy you've spent throughout the day.
Assistance Alert and Crash/Incident Detection - If you accidentally crash on your bike, or stumble and fall on a run, the Garmin 45 can alert your emergency contacts and provide them with your last GPS location. Plus, if you haven't had a traumatic crash or fall but you still want to let your emergency contacts know where you are, you can hold down a button on the 45 to do so. These features require that you have your phone with you.
Additional Sports Modes - The Forerunner 45 has the following sports modes: Run, Treadmill, Bike, Cardio, Walk, Indoor Track, Bike Indoor, Walk Indoor, Elliptical, Stair Stepper, Yoga, and Other.
Final thoughts...
Until now, stepping down to the Forerunner 35 (and the models that came before it) came with several tradeoffs, like losing functionality, a different interface, and limited capabilities. As you can see, the new Forerunner 45 and 45S have changed this story. They have been significantly improved, and the sacrifices you make in using this level of device have been reduced. And if you're a weight weenie, the 45S weighs a svelt 32 g, whereas the full-featured new Garmin Forerunner 945 is a hefty 50 g.
The new Forerunner 45 does have its limitations. The lack of full Connect IQ is one, plus you're limited to three data fields per screen, and the metrics are not labeled (as you can see on the white 45S in the picture earlier in this article). As you scroll through the data pages, only the metric labels are shown on screen and they're replaced by the numbers after a few seconds. This would take some getting used to, but isn't a deal killer. Even with the downsides, the Forerunner 45 and 45S are clearly watches that provide a great amount of utility to both beginner and serious endurance athletes alike. 
Article written by Sam Mallery, Director of Marketing, Zone Five Software Inc.