Garmin Forerunner 245 vs. 235
How using the Garmin 245 compares the 235
The majority of runners out there are fairly serious about their sport, but they don't need all of their gear to be top-of-the-line. That's why "mid-level" running watches are so important—they're used by the largest number of serious athletes. Garmin recently updated their mid-level offering with the new Forerunner 245. As someone who used the 220, 230, and 235, I was curious what improvements had been made, so I got a new 245 to find out. In this post, I share my personal experience using this watch, and compare it directly to the Forerunner 235.
Physical differences between the Garmin 235 and 245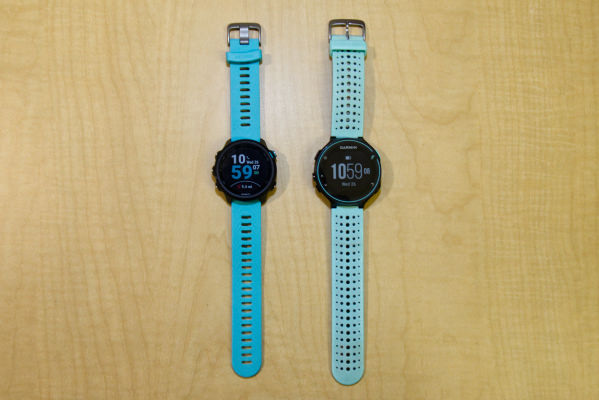 On the left, the new Forerunner 245, on the right, the old Forerunner 235
The body of the Garmin 245 is slightly smaller than the 235, and you notice it right away when you strap one on your wrist. Even though the reduction in size is minimal, you can sense and appreciate it. The 235 was already lightweight and not terribly bulky, and the 245 improves in both of these areas by weighing only 38.5 g (the 235 weighs 42 g) and shrinking to 42.3 x 42.3 x 12.2 mm (the 235 is 45.0 x 45.0 x 11.7 mm).
Technically, the display on the new Forerunner 245 is slightly smaller than the one on the 235, but it  seems like it's larger. How? The bezel is smaller, but more importantly, the display on the new 245 is a complete circle, whereas the 235 is flat on the top and bottom. That tiny bit of screen real estate goes a long way. It makes the 245 feel less compromised, more fluid and complete. Plus, the backlight looks slightly brighter to my eyes.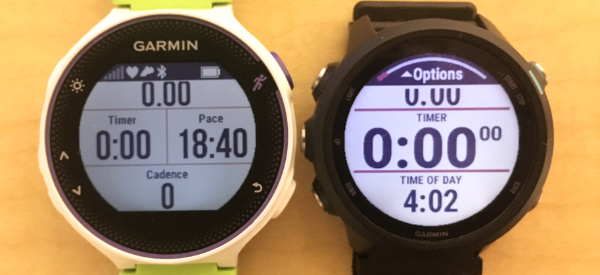 On the left, the old Forerunner 230, on the right, the new Forerunner 245
Rather than an iterative update, the new 245 gives the impression that it's a completely new generation. The materials are largely the same—except the buttons are now metal instead of plastic—but overall it feels like a higher-end watch. In the recent past there was more of a tangible gulf between the 200 and 600-series Garmin watches, but now they're much more alike.
Working out with the Garmin Forerunner 245
I ran with the Forerunner 220 for 2 years, then I upgraded to the 230 and was really impressed with the advancements made between the two models (you can read all of the details on this in our Garmin Forerunner 230 vs. 220 article). After using the new Forerunner 245 for a month, I can confidently say that it's a meaningful update packed with solid upgrades and advancements.
For starters, I immediately appreciated that it has more sports modes. The old 220 was almost strictly a running watch, the 230 and 235 added more sports modes to incorporate cycling and others. The 245 takes this further by including a built-in pool swim sports mode, which is very useful. With the 230 and 235 you could get around this by adding the Pool Swim Connect IQ app, but having it natively on the watch is a much better experience. Using the Pool Swim app on a 230 or 235 gives you basic metrics like distance, time, stroke rate, and more, but the 245 provides more useful swim charts and advanced metrics like SWOLF and stroke detection.
One issue I had with the 220, and a bit with the 230 and 235, was that they could be slow in acquiring satellite connections. My experience on this front with the 245 has been positive. It usually finds a satellite signal within 30 seconds when working out near my home. The first time I took it out-of-state, the 245 took around 2 minutes to connect with satellites for a hot trail run in South Carolina. The connection time was similar, if not faster for a muggy run I did in Florida. All in all, the GPS connection performance has been satisfactory.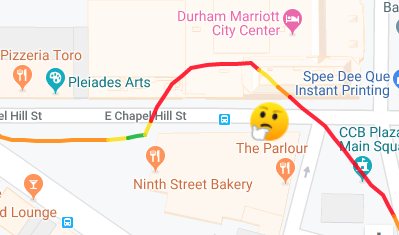 Color-coded map tracks showing speed changes and wavering
Like most sports watches coming out these days, the Garmin Forerunner 245 uses a new Sony GPS chipset that provides improved battery efficiency, but comes at the cost of accuracy. When analyzing the maps of my runs in SportTracks, I could see how the 245 sometimes wavered compared to where I actually ran. It isn't terrible, but this is one area where the outgoing 235 may be stronger. Hopefully the 245 will gain more GPS accuracy as its firmware is updated going forward.  
Let the music play...
There are two variants of this watch, one that has the ability to store and playback music, and one that's music-free. The music version costs $50 USD more, and as someone who enjoys tunes and podcasts while running, that's the one I opted for. I was able to load a few albums onto the 245 with my premium Spotify account, and it all worked pretty well. Be warned, though. When you run without a phone, you're also likely running without a camera. If an Instagramable moment happens on the run, you won't be able to capture it.
Learning how to use the music controls while you're running takes a little getting used to. The first time I wanted to turn up the volume, for example, it took a few minutes to figure out. It's been nice having music on my running watch. I can leave the phone at home and still rock out while running. I used the 245 Music with my first generation Apple AirPods, and the two worked very well together. The music sounded great and it got loud enough to satisfy.
I do wish it was a little easier to load new music onto the watch. In order for that to happen, I need to be on my home Wi-Fi network, I need to have enough free time to fiddle with the watch and search for music (this would be easier to do with a phone app), and the battery of the watch needs to be above 50%. I've found that it's rare when these three variables come together. It's still a nice feature to have and I'm glad it's there.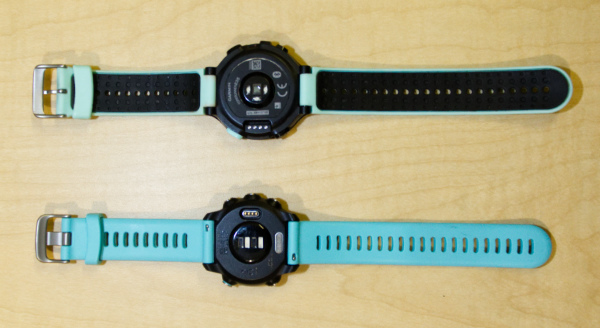 On top, the old Forerunner 235, on bottom, the new Forerunner 245
Other improvements and features
The optical heart-rate monitor on the new Forerunner 245 has been improved over the 235. I tend not to be too much of a stickler about heart-rate data, but I do get annoyed when I see HR errors in my workout data. Looking at the workouts I've done with the 245, the heart-rate data seems to be exactly where it should be. This watch also has another optical sensor called Pulse Oximeter, which measures the saturation of oxygen in blood. When training at altitude, it can tell you how well your body is adapting. You should see your SpO2 level stay steady, but your heart rate will decrease after a few days of training. It can also be beneficial at sea-level as well, especially if your SpO2 is low. This can mean you're not getting enough recovery, even when you feel rested and ready to work out.
The 245 also has a bunch of fitness metrics that were not found in the 235, such as a very simple Training Load chart, VO2 Max estimate, a race predictor, and more. I prefer to use the Health page of SportTracks as my main performance chart, but it's nice having mini charts to glance at immediately after a workout. I populate some of the charts in SportTracks with data from the 245, such as Training Effect, Steps, Sleep and more. I appreciate the simplified Training Load interface on the watch, but SportTracks gets data from multiple sources (not just Garmin), and I can completely customize the layout to my liking. I can also easily filter date ranges and see how planned workouts will influence my fitness, and I can see upcoming race dates in the Training Load chart and plan to have my trendlines peak on raceday.
More good stuff in the 245:
A new charging method - Instead of a clip or a cradle, the new 245 has a plug that sticks right into a port on the back of the watch. I personally prefer the new "plug in" method.
Basic navigation features - These were not in the 235. You now get breadcrumb trail maps, and a "return to start" feature in case you get lost.
Additional functionality in the Power button - When you press and hold the Power button on the 245, you access a menu of useful tools, such as a timer, a stopwatch, a way to contact people for emergency assistance, and more. 
It's much easier to change watch bands - You could change bands with the 235, but you needed tiny screwdrivers to do it. You can change the bands of the 245 without tools. It comes with a nice silicone strap, but I found that I prefer nylon, hook-and-loop style straps, similar to the Apple Sports Loop. I found one I liked on Amazon for $10, and I can quickly swap it any time I want.
Wrapping up...
Could the Garmin 245 be better? Sure. I wish it had Garmin Pay, because it's handy to buy groceries without digging your wallet (or your phone) out of your pocket. The 245 is a great fitness tracker, but the lack of a barometric altimeter means that it doesn't count stairs, and you can't use Garmin Running Power. It also lacks the ability to track open water swims (you need to jump up to the 945 for that, or use the much older 735XT).
Ultimately, I think the new Forerunner 245 is an excellent update to Garmin's all-important "mid-level" running watch lineup. The 235 was loved by many, but I think it's worth it to pay a little extra to get Garmin's latest tech. The new 245 offers many more useful features, additional sensors, and new fitness metrics, and the option to listen to music on the watch. It's a "mid-level" running watch that skates right up to the line of being a high-end timepiece.
Article written by Sam Mallery, Director of Marketing, Zone Five Software Inc.