Adding a Workout
How to Add a Workout on SportTracks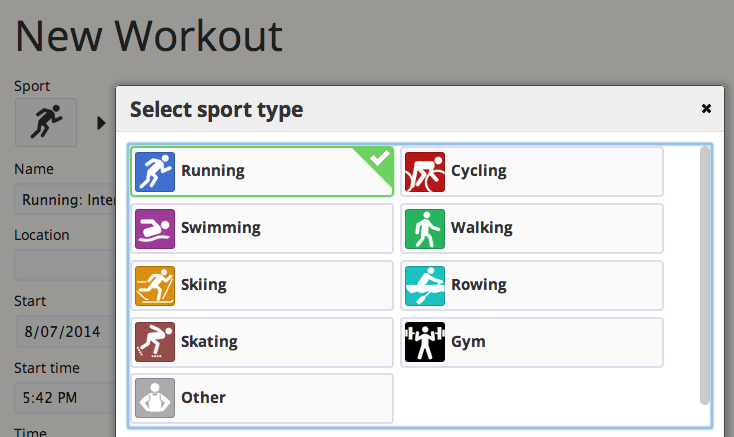 For today's post, we're going back to basics and addressing one of the key components of using SportTracks: adding a workout. This post will hopefully lend some direction to those of you starting out with us and provide refresher to our longtime users. Read on and get tracking.
First up: bulk device import
Completing a bulk device import will be quicker and easier than adding workouts one by one. Note that this only works with a Garmin watch. For other devices you will need to use the File Import option described further down.
Log in to your SportTracks.mobi account.
 
 Connect your device. 
 
Mouse over the Add workout tab in the top right corner and click the second option, Device import. 

SportTracks will take a moment to find and read the workout on your device, when it is finished, it will give you the option to Import x new workouts, x being the number of workouts found on your device. Click this option. The workouts will begin loading. 
​
Once an individual workout is uploaded, you can click on the workout for details, including workout time, distance, stop time, average pace, max pace, and elevation gain. Look for a future blog post that delves further into dissecting a workout. 
File import
A second option is to a do a file import. Take a look at our Device Compatability page to view compatible devices.
Connect your device.


 

A device folder should pop up on your desktop, similar to a USB drive. If you click on the device icon, you will be able to see your files.


 

You may choose to save your files to a more stable location at this time. Doing so will allow you to be able to unplug your device if need be before you finish uploading your workouts.

Log in to SportTracks.mobi.


 
Mouse over the Add workout tab.​
 
Click on File import.
 
Click the Choose File button.
 

Choose your file either from your device folder or, if you saved your file, from its saved location.


 
Click Open.
 
Click Import.
Adding workouts manually
Alternatively, you can add workouts without connecting your device and instead filling in the information yourself. This option also works if you didn't use a device to track your workout or if you don't own a device.
Mouse over to the Add Workout tab and click on the top option Enter details.
 
You will be brought to a page titled New Workout, with a form where you can enter your available data.
 
Before entering data, we need to narrow in on your workout type. The top row in on this page will be labeled Sport.
 
Click on the human icon.
 
You will be taken to a pop-up window titled Select sport type. Here you will see all workout type options. 
 
Choose from one of the workouts listed below. In this example, we have selected to enter data from a run workout and the Run box is checked. Select Other in the bottom right-hand corner if you do not see your workout listed as an option.
 

Next click on the plus sign icon to the right of the human icon. Here you will further be able to specify the type of workout completed. For example if you chose running as you workout you will have the option to chose one of the following subtypes. Select an option. Here we've selected intervals.

Say you skipped the trail and worked out at the gym. When you click the plus sign icon you will see these options instead.

The workout type you selected will autofill the Name section, one row below. Here we have an interval run workout.

You will then have the option to further specify details of your workout, such as workout location, date, and start time.
 
Next you will be able to enter stats, such as time, distance, calories, as well as any workout notes you may have. Don't worry if you do not have information for all of these categories! Just fill in what you know. Click Save when you are finished.
 
The info will then reload into a saved workout format, though you will have the option to edit details at any time.
Still have questions? Email us at support@sporttracks.mobi and we'll help you get sorted out.
Now get out there, train smart, and discover your path to performance.