Workout Library
Create your training plans faster with drag-n-drop workout templates
Did you know that SportTracks has a helpful feature that makes it easy for athletes and coaches to create training plans? The Workout Library box on the calendar page enables you to create templates for common planned workouts and quickly drop them into your training plan. To create a template, drag an existing planned or completed workout into the library.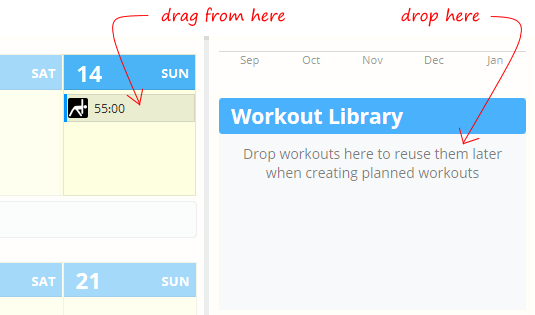 Below you can see I've added 3 workouts that I frequently do: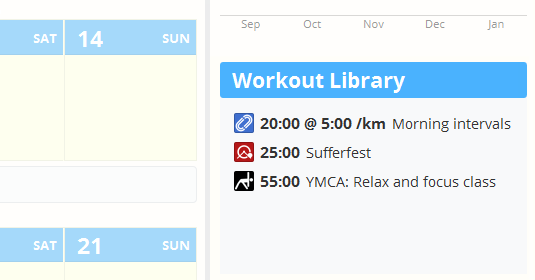 And now I can quickly create my training plan by dragging these items and dropping them into the calendar: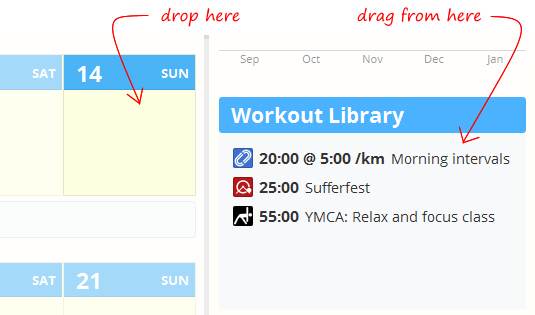 You'll notice when you drop the workout on the calendar all information in the template including sport, name, goals and notes are prefiiled, and you have the same option to create repeating workouts from this template. This makes creating training plans SUPER fast. Coaches will also appreciate the ability to use this feature to quickly set up predefined workouts for different phases of all their athletes training plans.
There are a few more options in the workout library:
Click and drag to rearrange the order so your common workouts are on top
Click an item to edit the template information
And of course, you can click an item to delete it from the library
The workout library combines very nicely with our other recently released features to make training plan creation easier: drag and drop copy and repeating workouts. And the timing is great - perfect for you to start thinking about your spring training goals.