How to Use Planned Workouts
Create a training plan with these powerful features
Do you ever look at your workout calendar on the first of the month and give a sad sigh because it's empty? It doesn't have to be this way! You simply need to put the "Planned Workouts" features in SportTracks to use. This is how you do it...
Note: This post was published in November 2013 and updated in April 2019 to add current features
With planned workouts you can lay out your training plan for a specific event or race, or plan your workouts for an entire season. Scheduling your workouts will keep you on track by letting you see how well you are meeting your goals. Seeing your upcoming workouts is also a great way to hold yourself accountable on those days you're not feeling inspired.
Creating a planned workout
To create a planned workout, switch to the calendar week view by clicking this week's bar chart in the dashboard:

From the weekly calendar view, click the day number to add a planned workout. You can add a planned workout to any day from today forward.

The icon under the 9 above is the SportTracks Daily Notes feature
In the planned workout dialog you can set your sport type, date, time of day and goals. It's also a good idea to give the workout a unique name (emoji is supported). In the Steps tab you can create a dynamic custom workout (which you can then export to a Garmin device). In the Repeat tap you can schedule the workout to repeat daily or weekly. The Notes tab allows you to enter a training note about the workout. This dialog also lets you specify a flag color which will appear in the calendar: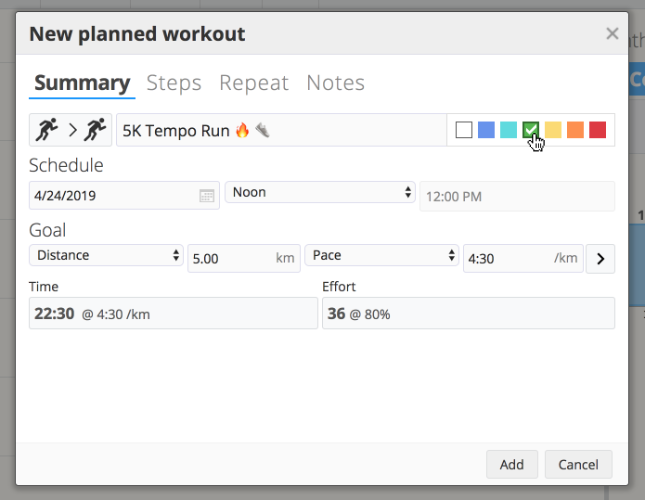 You can create a primary goal of time or distance, and optionally specify a speed. If a speed is provided, the equivalent distance/time is calculated.
After you save the planned workout it appears in your calendar. The look is similar to a completed workout, but includes the flag, name, time and notes instead of data fields. If you have our Garmin Training Integration enabled, your planned workout will automatically be sent to your Garmin watch or bike computer.

Switching to the monthly view of the calendar, you'll see a smaller view of the planned workout. The name of the workout will be displayed as the goals you set, and the totals for each week are provided as well:

On the monthly view you can also click a calendar day to create a planned workout.
Viewing your upcoming training plan
As you're adding your planned workouts, you'll want to review your total weekly volume goals and workout mix. The monthly view of the calendar is the best place to do this. For any weeks in the future, the weekly summary row at the bottom will show your time, distance and sport types

For additional details, you can click a planned workout, or flip over to the week view which provides slightly more info.
Another place you'll see your upcoming workouts is on the Dashboard. If you've added a planned workout a new section will appear at the top of the dashboard showing the workouts for the next week.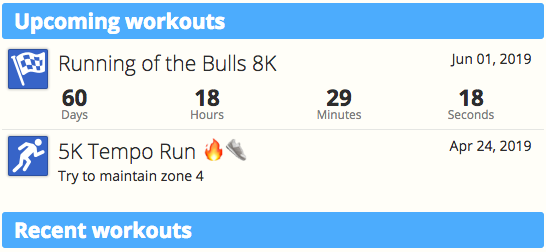 You can click the planned workout to see details, to add additional notes, or to edit the date, goal, etc. You may also notice a delete button. You should only delete a workout if it was mistakenly added to your plan, not to mark it as "missed". If you're going to miss the workout there is nothing you need to do - as soon as you move past the workout date it will be marked as "missed" unless an actual completed workout is performed that matches the plan.