Planned Workouts Part 2
Monitoring your training plan
A goal without a plan is just a wish. - Antoine de Saint-Exupéry
An important part of your training plan is seeing how well you did compared to what you planned to do.
Last month we talked about how to create your training plan with our new planned workouts feature. In this post we show you the different ways you can monitor your performance against your plan.
Workout performance to plan
Once you've created a planned workout and done the actual workout the system will match these together. In the workout details view, a new section appears which shows how you did:

You'll see your time or distance goal and your speed/pace goal, depending what you set up for the planned workout. As you see above, I hit my goal fairly well but was a bit faster than planned. Using the charts or intervals page I can look into this more and see where I went wrong. Did I come out too fast? Was this course flatter than I planned? How did my heart-rate zone info look?
Looking at the combination of plan difference and workout details, you can gain insight and adjust for your next workout, prevent overtraining, and maximize the gains you get from your training.
Overall plan monitoring
So how are you doing overall? Back to the calendar, we can see workouts we've missed. Here I am looking at a particular day on the monthly view with a swim+bike+run planned: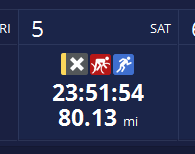 On the weekly view I can get a bit more detail: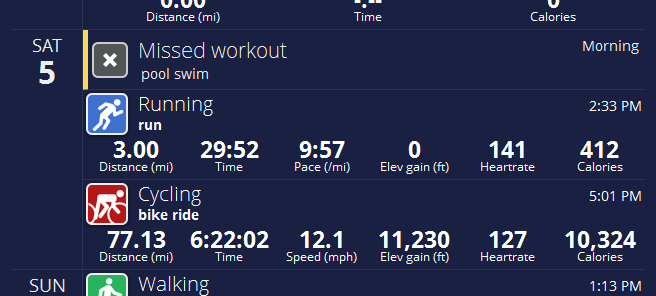 You can click the planned workout to get a quick view of the full details. You'll also see missed workouts on the dashboard view along with the recent workouts - where you can tag them as completed, or delete them and pretend it never happened.
Adding planned workouts also activates progress bars in the weekly summary blocks. See how you're doing at a glance by scanning your monthly calendar:

And for future weeks, you can see sport types and goals for each day, as well as goal totals for the week:

Whats next?
Our roadmap for planned workouts is to improve the workflow above: to make creating training plans and checking performance against plan easier and more streamlined. Along those lines, here is what you can look forward to later this year:
Import multi-week seasonal or event-based training plans from a spreadsheet or CSV file
Allow your coach to set up planned workouts for you
Email integration: reminders of upcoming workouts, and weekly performance reports sent to you or your coach
Google calendar integration: another way to plan your busy life to include your training goals
We're really excited about these new features and how they will remove a lot of the hassle of managing your training plan. It lets you focus your time on what you want to do - hitting the road (or trail, or lake, or...)