TrainerRoad Compatibility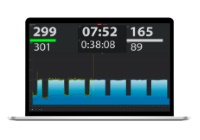 Auto-Sync Support for TrainerRoad
SportTracks provides a seamless "auto-sync" feature for TrainerRoad. Your trainer ride data automatically syncs and uploads to SportTracks, enabling new and meaningful analysis options.
TrainerRoad sessions are analyzed along side your other sports activities (running, swimming, cycling, tec.), empowering you with the broadest possible understanding of your entire training regime.
Track all of your activities in one application:
indoor trainer rides, road cycling, running, swimming, and more.
See how your TrainerRoad workouts combine with your other efforts and impact your Training Load and Performance charts.
Gain access to the industry-leading analysis, planning, and coaching features of SportTracks.